A bright and colorful cultural ceremony at the Siriwijaya Stadium in Palembang City in Indonesia yesterday (Nov 11) kicked off the 26th Southeast Asian Games.
The opening ceremony began with an Indonesian folk performance showing interesting movements under tech colored laser lighting. About 100 children and 3,500 youth dressed in traditional costumes took part in the show.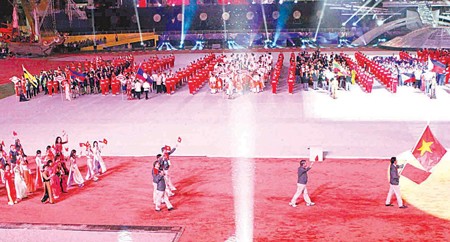 The Vietnam sport delegation pass by the stadium

Singing star Agnes Monica of the host country, music band KC Conception of the Philippines and Jacklyn Victor of Malaysia sang "Sriwijaya-Golden Penninsula" and "Reach for your Dreams".

Sports delegations and flags of participating nations were paraded on boat-shaped vehicles, each carrying a typical image of each nation.

Olympic 1992 badminton champion Susi Susanti of Indonesia performed the ritual of lighting the flame by descending dramatically on a trapeze 100m above the stage.

The spectacular opening ceremony of the region's biggest sports festival captured the attention of thousands of athletes, coaches, officials assembled and more than 10,000 spectators witnessing the performances by artists who had been practicing for several months.

The biennial Games involve 11 nations in sports from athletics and swimming to sepak takraw – a cross between football and volleyball – are being held in the Indonesian capital of Jakarta and Palembang in South Sumatra .

Sport experts anticipate that the SEA Games will showcase Indonesia 's rise as number one for gold medals, with the largest team.

At the Games, which will run until November 22, athletes will take part in 46 sports events competing for 545 sets of medals.

This year, Vietnam will participate in 42 sports with a target of 70-90 gold medals which will place it amongst the top three.

The three-hour ceremony ended with a performance of fireworks and lights in the sky and the song 'Together We Can Give', composed by Indonesian President Susilo Bambang Yudhoyono.