Ho Chi Minh City has started construction of a 23 hectare-biotechnology center in District 12 with a total capital of US$100 million, aiming to take the city become the country's center in the field.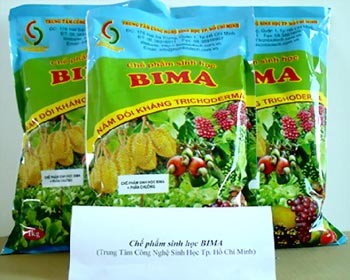 BIMA bio-product made by the HCMC Biotechnology Center (Photo: SGGP)
The HCMC Biotechnology Center will comprise 12 advanced laboratories with estimated cost of US$2 million each. Six of them, for the study in agriculture and seafood fields, will be built by 2012 while construction of the rest, in medicine and environment, is scheduled to complete by 2015.
Equipment for the facility will just be bought if the center has enough skilled researchers to use them, said the center director Duong Hoa Xo, adding several laboratories in HCMC, invested with millions of dollar, now are blanketed due to a lack of human resources.
To operate the laboratories, the center will need 200-300 scientists. Since early 2007, it has appointed 17 staff to study master's and doctoral degrees abroad. As of the third quarter of 2010, another 6 will come to Canada, Korea and Japan for training.
Achievements
The center has built and operated three laboratories specializing in molecular biology and technologies of plant cell and microorganism from 2006 to 2009
The three laboratories have generated PCR (polymerase chain reaction) kits, discovering four kinds of diseases on shrimps. The kits have helped the researchers to analyze disease samples with prices half lower than imported items.
The center is now studying to produce Lamp kits, which are cheaper and easier to use, to replace PCR kits.
Besides, the center also has a 2,500-square-meter conservatory for growing orchids and ornamental plants.
Moreover, it has produced BIMA bio-product containing antagonistic fungi Trichoderma which are able to annihilate and prevent fungus harmful to plants.