A charity healthcare program was launched on Sunday to provide warm scarves for poor and impoverished children living in remote, disadvantaged and especially the colder regions of the country.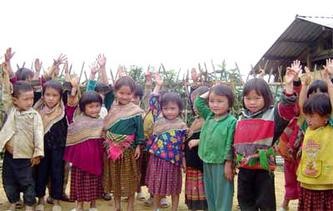 Children in a mountainous northern province
The program was jointly launched by United Pharma Vietnam, General Office for Population and Family Planning and the Ministry of Health, along with some other relevant agencies.
The program will provide warm scarves to poor children to prevent them from the chill during the cold and freezing weather.
Today warm scarves will be distributed to children in Mu Cang Chai district in the northern mountainous province of Yen Bai. Around 3,000 children in the remote mountainous communes of Cao Pha, Che Cu Nha, Xeo Di Ho, Ho Bon, Che Tao and Lao Chai in district Mu Cang Chai will receive warm scarves from the organizers.
All in all the country has an estimated 4.5 million impoverished children.