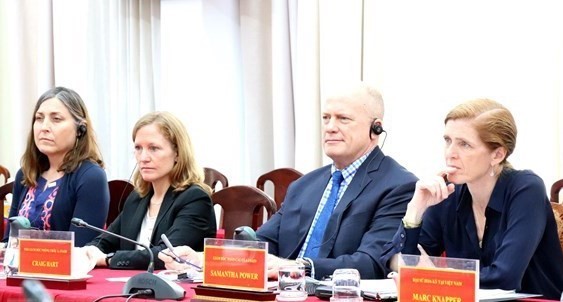 The United States Agency for International Development (USAID) delegation at the event. (Photo: VNA)
The two sides discussed collaboration in climate change response and how to support people affected by natural phenomena.
According to Tran Viet Truong, chairman of the municipal People's Committee, a range of hydroelectric dams in many countries that are upstream of the Mekong Delta have changed the flow and greatly affected the lives of people in the downstream areas. The rise in sea level is the most obvious evidence.
Scientists have predicted that the Mekong Delta may be deeply flooded in the next few decades.
Can Tho and the Mekong Delta provinces are looking for ways to restructure crops and livestock as a response to saline water intrusion, therefore the city hopes that USAID will pay attention to research and support so localities in the Mekong Delta can adapt to climate change, he said.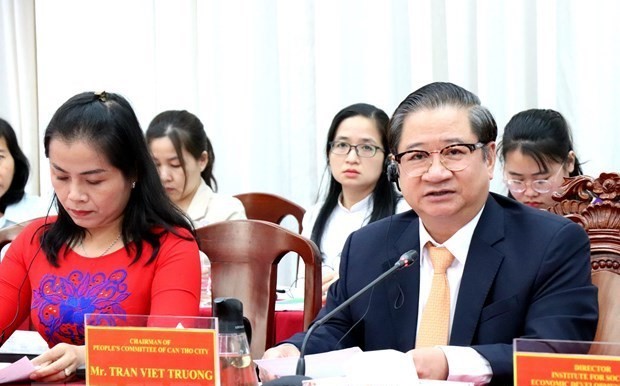 Tran Viet Truong, chairman of Can Tho city People's Committee, speaks at the event. (Photo: VNA)
The official said Can Tho still faces difficulties in terms of transport infrastructure. It is the only locality in the Mekong Delta that has an international airport, but the facility mainly serves the travel needs of people, leading to limitations in transporting agricultural products in the Delta,
The city wishes to receive support from USAID to facilitate farmers and businesses engaging in agricultural production, Truong said, adding it will help promote the sale of farm produce of the whole region.
For her part, Samantha Power said that the organization pays attention to enhancing support for people to adapt to changing climate change to secure their livelihoods.
The official also expressed her interest in cooperating with Can Tho city in other activities to strengthen action against plastic pollution, assist those affected by climate change as well as take care of their health.