CAMP VICTORY, Iraq, Sept 1, 2010 (AFP) - Vice President Joe Biden launched a new American military mission in Iraq on Wednesday, opening up a fresh phase in a seven-year deployment that has cost the lives of more than 4,400 US troops.
Addressing soldiers near Baghdad a day after the US combat role officially ended, Biden sought to rally the nearly 50,000 American troops who will remain in the country until a total withdrawal at the end of 2011.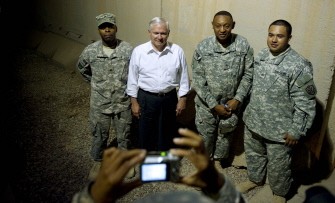 A soldier takes a picture of US Secretary of Defense Robert Gates (C) and some troops after he had dinner with troops at the Sports Oasis dining facility at Camp Victory in Baghdad, on September 1, 2010. AFP
The vice president acknowledged that the 2003 invasion had split US public opinion but he called for unity around the new training and advisory mission and said he believed the Iraq conflict's "darkest days are now behind us."
"It is no secret that this war has divided Americans but they have never shrunk from the united support of the United States military," Biden told an audience of around 1,000 troops and invited guests.
"Now is the time to put these differences behind us," he said at Al-Faw Palace, the former hunting lodge of toppled dictator Saddam Hussein which falls within Camp Victory and is now the US military's Iraq headquarters.
Biden said the new training mission -- Operation New Dawn -- would continue US engagement with Iraq, but he also acknowledged Iraqi lives lost.
"Tens of thousands of security forces and innocent civilians have been killed," he said, noting the impact of a brutal insurgency and sectarian blood-letting that swept the nation in the years after Saddam's ouster.
"The Iraqi people have rejected their ugly face of violence," Biden added, referring to the insurgents.
However, statistics released on Wednesday by the Iraqi government showed that 426 people -- including 295 civilians -- were killed in August in bombs and shootings, indicating that the country's unrest is far from over.
A total of 49,700 US troops are currently stationed in Iraq for the new training and counter-terrorism mission, which follows a pledge made last year by President Barack Obama to bring all other American troops home.
Thousands of US soldiers have left Iraq in recent months and Obama used a speech from the Oval Office on Tuesday to note the end of combat operations.
Defence Secretary Robert Gates, who was also in Iraq to mark the launch of Operation New Dawn, told troops based in the country their work remained vital despite an increased focus on the war in Afghanistan.
Gates, like Biden, also chose to acknowledge domestic controversy in the United States over the war.
"The problem with this war for many Americans is that the premise on which we justified going to war proved not to be valid," he told reporters ahead of Wednesday's ceremony, which saw the appointment of a new US commander in Iraq.
"Even if the outcome is a good one from the standpoint of the United States, it will always be clouded by how it began," Gates added.
Then US president George W. Bush ordered the invasion of Iraq in March 2003 arguing that the country was rife with weapons of mass destruction. Despite exhaustive efforts, none were ever found.
Biden, who repeatedly met Iraqi political leaders in a bid to speed up protracted coalition talks since an inconclusive March general election, said he believed a deal was now finally close.
"I am absolutely convinced that they are nearing the ability of forming a government, that will be a government representing the outcome of the election, which was very much divided," he told US network CBS.
Biden left Baghdad on Wednesday afternoon for Erbil, in northern Iraq, where he met Kurdish regional President Massud Barzani and several other Kurdish officials.
At the ceremony in Camp Victory, outgoing General Ray Odierno was replaced by newly promoted General Lloyd Austin as commander of US forces in Iraq.
"Even today there are those who doubt that the Iraqi security forces are ready to take full responsibility for security," Odierno said.
"I say before you today they are ready to do that task."
Prior to the ceremony, however, the deputy commander of the new US mission, Lieutenant General Michael Barbero, said he expected a new Baghdad government to make a formal request for extra help as the end of next year looms.
"I would predict that they are going to ask for some assistance. We've got a lot of work to do right up to December 2011," Barbero told reporters.