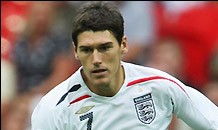 Gareth Barry
LONDON, Aug 2, 2010 (AFP) - Gareth Barry fears England's World Cup flops will spend a night on the boos when they return to Wembley for a friendly against Hungary next week.
Barry and his England team-mates suffered a miserable time in South Africa and were elminated in the second round by Germany after winning just one of their four matches.
The Manchester City midfielder admits those poor performances could prompt an angry reaction from England's notoriously fickle fans as Fabio Capello's team play their first match the World Cup.
England supporters have turned on the likes of Ashley Cole, Frank Lampard, Owen Hargreaves and Peter Crouch in the past and it would be no surprise to hear a chorus of disapproval when the team runs out at Wembley next Wednesday.
"Yes, there will be a sense of trepidation before we go out at Wembley," Barry told The Sun.
"You have seen the fans boo individual players before when anything has happened.
"The team as a whole need to earn the right to get the supporters back behind them."
Barry knows it is vital that England get the fans back on their side as quickly as possible in case the aftermath of the World Cup failure starts to damage their European Championship qualifying campaign.
"The whole nation was disappointed in the summer and there will be all sorts of excuses and reasons why we didn't do better," he said.
"But as a team we need to get together behind the manager and rebuild the faith of the fans.
"The Euro 2012 qualifying games start early next month and we really need that support, so hopefully they will be behind us.
"I think the general public will get behind us. The fans are English, the players are English. We all want the same thing."