DUBLIN, Aug 12, 2010 (AFP) - Argentina's 1-0 victory over Ireland has helped to get the "massive blow" of World Cup elimination out of their system, said coach Sergio Batista.
The South Americans won 1-0 at the new-look Lansdowne Road thanks to a controversial first half goal from Angel Di Maria.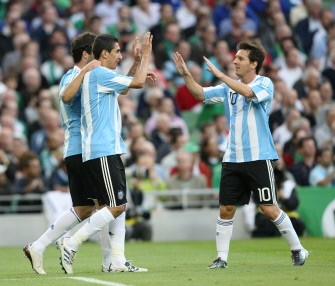 Argentina's Angel Di Maria celebrates with teammate Lionel Messi (R) after scoring against Ireland. AFP
Ireland, without manager Giovanni Trapattoni, who watched the game from a Dublin hospital having undergone surgery earlier in the day, rallied late on but the visitors held out for victory.
"It was very positive, not just the result, but how we played," admitted Batista, in charge of Argentina for the first time since the controversial exit of Diego Maradona.
"We had an excellent team spirit and worked together as a group. It was good to get the massive blow of World Cup elimination out of our system, and we played the football I like, particularly in the first half.
"We tailed off in the second half, maybe on the physical side we were lacking a bit but even though I thought that, in the harder parts of the game we managed to hold on to the ball.
"If I had to rate our performance, I'd give us 8/10 for first half. I'm definitely leaving happy."
Di Maria's 20th minute goal had more than a hint of offside, but Batista didn't mention the controversy and pronounced himself happy with how his first 90 minutes with the squad went.
He said: "It was a big, important game for us and we talked about it in great detail since we got here, we had lots of chats about how we'd approach it.
"We had some tiredness toward the end but that's because some players are only in their pre-season. This victory is for them, and we're happy with how it turned out."
Ireland assistant boss Marco Tardelli was in charge for the night, and said he was pleased with the performance, if not the result.
He said: "I am disappointed with the result, but I am happy for the young players, they played well and we did very well in the second half.
"In the first half, they lost concentration and maybe the goal was offside, but we must pay attention at that moment, because it's impossible to concede a goal from a long kick out.
"I spoke to Giovanni after the game, and he told to me to congratulate the players, on the second half in particular."
Ireland team doctor Alan Byrne said Trapattoni came through surgery successfully, and claimed he would be available for Ireland's Euro 2012 qualifier in Armenia next month.
"He is expected to remain in hospital over the weekend, there is no date set for his discharge but he'll absolutely be available for September's game."