At least three people were killed and three others were wounded when a pedestrian bridge in the south of Indonesia collapsed on September 24, source from Vietnam News Agency.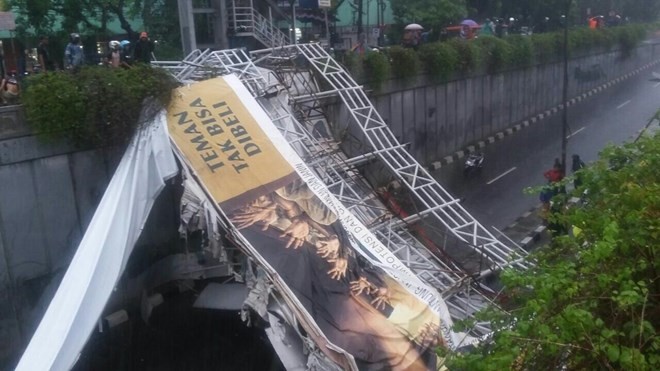 A pedestrian bridge near Pasar Minggu station in South Jakarta collapses during heavy rains on Sept. 24. The accident killed three people (Photo: thejakartapost.com)
According to Jakarta police spokesman Awi Setiyoo, strong wind was blamed for the bridge collapse, which hit three cars passing below it.
In another news, about 23 people died and three others were injured after a minibus plunged from a mountain road into a river in a remote area of Kashmir, administered by Pakistan.
Local authorities said the accident happened on late September 23 in Nausehri, about 45 km north of Muzaffarabad, the capital of Pakistan-controlled Kashmir, when the ill-fated bus driver lost control. The vehicle dropped off the road and fell into a river from a height of 100 metres.-