Thailand's premier warned nervous Bangkok citizens on Wednesday that incoming floods could last for four weeks, as waters inched nearer the city centre on the eve of an emergency five-day holiday.
Prime Minister Yingluck Shinawatra told reporters that the capital's flood barriers might not be able to hold back a mass of run-off water from the north as the country grapples with its worst flooding in decades.
"But I'm fifty percent confident that the inner zone of Bangkok will not be completely flooded," she said, toning down comments from a day before when she said flooding in central Bangkok was "highly likely".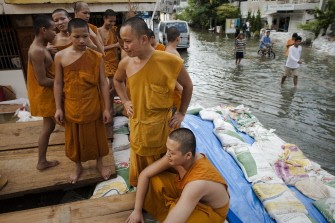 Buddhist monks construct a sand bag wall to block flood waters from entering their temple, in a street near the Chao Praya river in Bangkok on October 26, 2011.
The crisis has been plagued by contradictory information from national and local authorities, confusing the city's 12 million residents who have been bracing for the onslaught of water for days now.
Bangkok governor Sukhumbhand Paribatra said late Wednesday that a large amount of water was moving closer to the city. "It will get to Bangkok tonight," he said.
Adding to the deluged kingdom's woes are fears of crocodiles on the loose from flooded farms -- another three were captured Wednesday in Nonthaburi province, north of the capital.
"They are between 1.7 and 1.8 metres (five and a half and six feet) long," an official from the fisheries department told AFP, adding that they knew of no attacks on humans by the escaped reptiles, whose numbers remain unclear.
A high tide this weekend is expected to surge up Bangkok's already swollen Chao Phraya river, and Yingluck said a "worst-case scenario" would see parts of the low-lying city submerged by "more than one metre" of water.
"Initially, the floods in Bangkok will last for two weeks to one month," she added.
More than 600 inmates, including some on death row, were moved on Wednesday from the notorious Bang Kwang prison on the Chao Phraya riverbank -- better known as the "Bangkok Hilton".
Workers at Dusit Zoo, also near the waterway, began to evacuate some of its residents, including spotted deer and antelopes, while structures were provided for lions to climb up to safety.
Many supermarkets were running low on essential items such as bottled water and eggs as residents stocked up on goods ahead of the expected deluge.
"The most critical shortage is drinking water," Yingluck said, advising people to boil tap water before consuming it.
On Tuesday, the government ordered a five-day holiday from October 27-31 for 21 provinces including Bangkok, to allow the city's residents to prepare for the inundation or leave.
Government offices will be closed and authorities have urged public and private companies to allow their staff the time off, but the central bank said financial markets and banks would not shut.
Public schools in Bangkok, currently on holiday, are not expected to reopen until November 15, and several international schools have also delayed the return of pupils.
The massive Chatuchak market, one of the city's most popular tourist attractions, will also be closed this weekend, local officials said.
Bangkok's main international airport, Suvarnabhumi, is operating as normal but the domestic Don Mueang airport in the north of the capital suspended flights until November 1 after waters started seeping onto the runways on Tuesday.
About 4,000 flood evacuees who had found refuge at a disused terminal on the compound were being moved to other shelters.
Despite the rising waters, Yingluck said the government would not move its flood relief centre, which is located on the second floor of one of the airport buildings.
More than 370 people have been killed in the three-month flood crisis caused by unusually heavy monsoon rains, damaging the homes of millions of people and forcing tens of thousands into evacuation centres.
The disaster is expected to shave around one percent off Thailand's economic growth in 2011, according to the government, which on Tuesday announced a raft of measures to help flood-affected businesses in an bid to reassure investors.
Proposals to boost investor confidence include about $10 billion in soft loans and tax waivers.