About 50,000 young fish that can grow to up to over 150 kg in weight and three meters in length were released into the Mekong River in Vietnam on Wednesday as part of efforts to protect and preserve giant Mekong species.
The National Mekong Committees of Vietnam and Cambodia, together with the Mekong River Commission (MRC), co-held the event in Hong Ngu Town, Dong Thap Province. The fish release site is about five km downstream Cambodia's Prey Veng Province.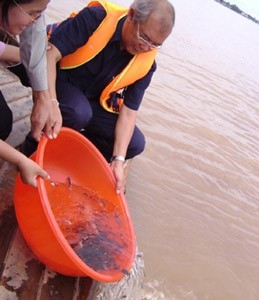 Young giant barb fish released into the Mekong River in Hong Ngu Town, Dong Thap Province on September 15 (Photo: An Nhi)
The ceremony was attended by fisheries officials from Cambodia and Vietnam, MRC representatives, as well as Prey Veng and Dong Thap authorities.
The endangered and valuable fish, Giant Barb or Catlocarpio siamensis, were bred by the Tien Giang Province-based National Breeding Center for Southern Freshwater Aquaculture, a unit of Research Institute for Aquaculture No. 2 in Ho Chi Minh City.
At the ceremony, Vietnamese and Cambodian representatives spoke of the protection of fishery, as well as cooperation between the two countries to protect the giant valuable fish, which are vulnerable to negative environmental changes.
Mr. Do Manh Hung, a representative from the Vietnam National Mekong Committee, said the ceremony was a way to raise public awareness, particularly among the younger generation, of the importance of fisheries for local economic and social development.
He added it was hoped that Wednesday's event would be "the starting point for a wider trans-boundary and cross-boundary cooperation between fishing communities and fishing authorities in bordering provinces of Cambodia and Vietnam."
Dr. Sam Nuov, deputy director general of the Cambodian Fisheries Administration, said the event was aimed at improving fish productivity.
"We live and drink water from the same Mekong River," he said, adding that Cambodia and Vietnam not only shared a common border but also common trans-boundary issues.
"Human activities or any change that occurs in one country can cause an impact on the other country. That is the reason we need to work and cooperate together."
The giant barb is one of three flagship species of the MRC Fisheries Program, along with the Mekong Giant catfish and Jullien's Golden Carp.
The giant barb is known as one of the largest freshwater fish in South East Asia.
The Mekong River Commission is the intergovernmental body responsible for cooperation on the sustainable management of the Mekong Basin whose members are Cambodia, Laos, Thailand and Vietnam.