The 12 workers who were trapped in a collapsed tunnel at Da Dang-Da Chomo hydropower plant were safely taken out at 4:30 p.m. on Friday afternoon in the Central Highlands province of Lam Dong.
They all have been rushed to Lam Dong General Hospital. Initial information revealed that one worker is slightly injured while the health of the rest 11 others is relatively stable.
The rescue mission went successful in the fourth day, two day sooner than expectations.
It was very lucky when rescuers saw the trapped workers through a hole while digging 15m of a precautious tunnel on the left of the collapsed tunnel, said Colonel Nguyen Huu Hung, deputy chief of staff of the Sapper Arm High Command.The rescuers dug towards the hole direction and reached the workers, he told.
The trapped workers are taken out in SGGP photos: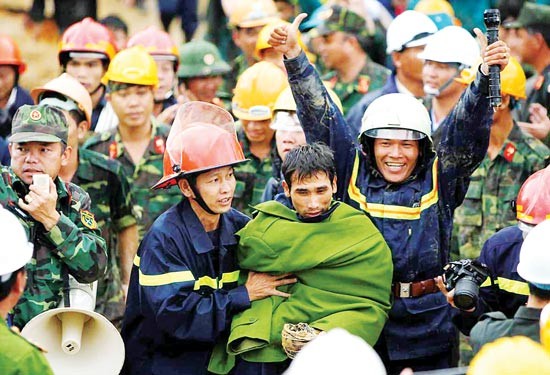 16:30pm on December 19, 12 trapped workers were taken out safety (SGGP)