Nguyen Nghia Tai of Nghe An Province who is living and working in the US established the "Stories of Vietnam" project last May with the goal of helping Vietnamese children in the US to learn about Vietnamese language and culture.
The project introduced to readers four bilingual Vietnamese-English books, including Rua con di cho (Little turtle goes to the market), Giac Mo bien xanh (The ocean dream), Chiec voi cua Tiwi (Tiwi's trunk) and Lai may hong roi (Tiger's trouble with sewing).
These literature works are children's books featuring vivid illustrations and messages of good things in life. After two years of launching, the project has provided free of charge more than 4,300 books to 1,300 families in the US. Tai and his associates have actively connected with libraries to deliver books to community libraries in areas where a large number of Vietnamese living. The project's books are available at 24 library branches in California.
We want to help families to introduce the Vietnamese language and culture to children. So the book is still the most suitable form, Tai said.
Stories of Vietnam is a non-profit project built to support Vietnamese American children to better understand Vietnamese culture. It publishes children's picture books to convey the values ​​of Vietnamese culture to young readers across the United States. The project is expected to be maintained for a long time to inspire many generations of Vietnamese American children. The habit of reading books and learning about their roots will partly help them to love Vietnamese culture more and be proud of their origins, thus contributing to a stronger Vietnamese community in the future.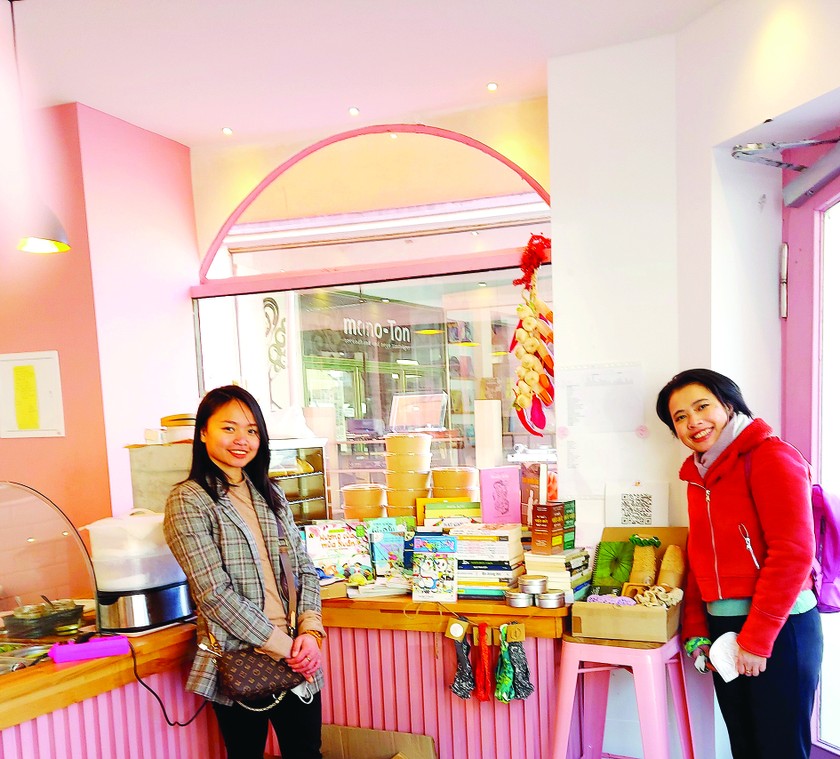 Nguyen Thuy Phuong Linh (L) at the Happy Bookstore in Germany (Photo: SGGP)
Nguyen Thuy Phuong Linh who was a wushu athlete of the HCMC wushu team for 15 years, and founder of the Happy bookstore said that the bookshop was launched after she moved to Grosshabersdorf in the district of Fürth, Germany at the end of 2019.
When the Covid-19 pandemic initially broke out and travel restrictions were applied, Linh must stayed at home during social distancing. She wanted to turn a boring time into reading time. However, there were no open stores. Linh ordered books online from online bookstores in Vietnam and asked her relatives at home to send books to Germany for reading and selling while staying home during the pandemic. One of the reasons for her to choose to start a business with Vietnamese books is the demand for maintenance of the mother language for overseas children and searching information and knowledge in Vietnamese, Linh said.
Three years after its launch, the Happy Bookstore established branches in the US, Canada, Vietnam and Japan, and has become a partner of Vietnamese publishing houses, including Lionbooks, the Youth Publishing House, Thai Ha Books, Nha Nam, Kim Dong, the HCMC General Publishing House and more.
Nguyen Quy Quynh Hanh, a young mother of the 9X generation who is living in Finland, established the Mot Bookstore in March 2021 with the goal of bringing Vietnamese books to the overseas Vietnamese community.
The shop has connected with many publishers and writers at home and opened branches in 12 countries.
Giving birth and raising children abroad show the importance of teaching and learning Vietnamese that helps family members to maintain a connection, Hanh said.
Nguyen Nghia Tai, Nguyen Thuy Phuong Linh and Nguyen Quy Quynh Hanh are messengers of the Vietnamese language. It is not only a book but also an enthusiasm of keeping national culture and origin.