Prime Minister Nguyen Tan Dung attended a conference organized by the Government of Vietnam and the World Bank on Friday in Hanoi to celebrate their partnership relations.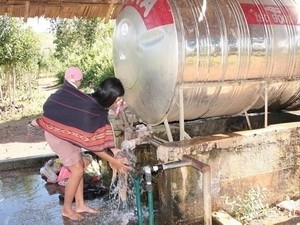 WB prioritise projects on clean water and rural hygiene (Source: VNA)
Both sides confirmed at the conference their commitment to bring the partnership to a new level in the next 5 years.
To date, the World Bank has provided Vietnam with grants, concessional credits and loans worth US$13.8 billion for Vietnam's development. Vietnam has been acknowledged as a middle-income country in 2009, with average growth rate in the 2007-2010 period of 6.7 percent.
Poverty fell from 58.1 percent of the population in 1993 when the World Bank resumed its lending relations with Vietnam, to only 14.5 percent by 2008. Meanwhile, IFC has increased its commitments in Vietnam from US$62 million in fiscal year 2007 to over US$1 billion in fiscal year 2011, including their asset management business.

"Vietnam is focusing its efforts on growth model and economic restructuring. To this end, it needs resources as well as to quickly move to market economy under socialist orientation. We trust that the World Bank will continue to provide us with financial resources, technical assistance and policy advise in the near future", said Deputy Prime Minister Vu Van Ninh in an earlier interview for this event.

On this occasion, the State Bank of Vietnam and the World Bank commissioned several review reports, focusing on the overall assessment of partnership, an annotated history of the partnership, the cooperation in poverty reduction, and infrastructure development, which were presented and discussed at the Conference.
Findings from these reports have affirmed that the World Bank Group has been the companion of Vietnam on the development path with enormous contributions, including contributions to Vietnam's achievement of several Millennium Development Goals and Vietnam's attainment of Lower Middle-Income Country Status in 2009.

Addressing the Conference, Governor of the State Bank of Vietnam Nguyen Van Binh affirmed that "Vietnam expects the World Bank continue to intensify and diversify aid modalities and technical assistance to improve and develop policy and institution, and public debt management. Vietnam has utilized effectively WB's assistance, and in new period of development, Vietnam commits to cooperate closely with the World Bank to ensure that Vietnam woll maximize the Bank's fundings's strong impact on achieving the goal set out in the 10-year SEDS of transforming Vietnam into a modernized country by 2020."

The World Bank is now preparing its next Country Partnership Strategy to step up engagement with Vietnam in the next 5 years to support implementation of the Social Economic Development Plan 2011-2016.

As part of the celebration, there were two panel discussions on Vietnam – World Bank partnership, and on Infrastructure Development and Poverty Reduction, whereby experts discussed the relationship between the two sides so far, as well as opportunities for future cooperation.

Governor of the State Bank of Vietnam Nguyen Van Binh and many other high-ranking officials from Vietnam attended the Conference. The World Bank's Vice President James Adams was present together with World Bank Vietnam Country Director Victoria Kwakwa. Development Partners also participated.