Deputy Prime Minister and Foreign Minister Pham Binh Minh talked over the phone with Indonesian FM Retno L.P. Marsudi on December 28, affirming that Vietnam is willing to join search and rescue efforts for missing AirAsia flight QZ8501 if necessary.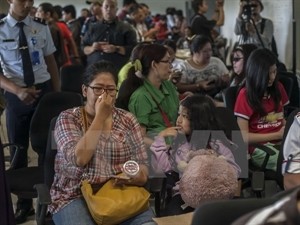 Families and relatives of the passangers on the missing AirAsia flight QZ8501 are waiting for news at the Juanda airport. (Photo: AFP/VNA)
He stated that the Vietnamese Government and people shared the deep concern with the families of passengers on the flight, which lost contact with air traffic control on the morning of December 28, only 42 minutes after it took off from Surabaya airport in Indonesia to Singapore.
Minister Retno L.P. Marsudi informed his Vietnamese counterpart of the latest developments of the incident and expressed thanks for the timely offer of assistance.
The search for the missing plane has been resumed on the early morning of December 29 after being suspended over the night due to bad weather.
Singapore deployed two jets, one destroyer and one escort ship, while the Air Accident Investigation Bureau had proposed sending two expert groups to help in the search and rescue operations.
The US, Australia and India also announced their willingness to join the search for the plane.
The missing plane has 162 passengers and crew members on board. The Malaysia-based airline said that there were 156 Indonesians, three people of the Republic of Korean and one person each from Singapore, Malaysia and France on the flight.