On the occasion of the 71st anniversary of Vietnam National Day (September 2, 1945- 2016), Vietnamese Prime Minister Nguyen Xuan Phuc chaired a solemn banquet for ambassadors, chief representatives of international organizations in Vietnam at International Convention Center in Hanoi yesterday evening.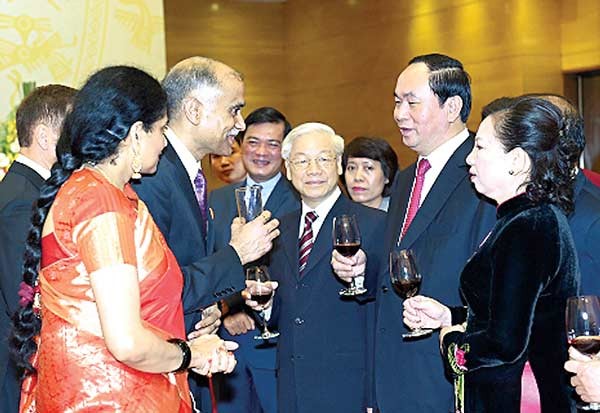 Leaders of Vietnamese Party, State and crowded distinguished guests, best friends attend at the solemn banquet marking the 71th anniversary of Vietnam National Day. (Photo: SGGP)
General Secretary of the Communist Party of Vietnam Nguyen Phu Trong, State President Tran Dai Quang, National Assembly Chairwoman Nguyen Thi Kim Ngan, President of the Vietnam Fatherland Front Central Committee Nguyen Thien Nhan and leaders of Party and State attended in the banquet.
The event also were presented by Moroccan Ambassador to Vietnam El Houcine Fardani as chief representative of diplomatic delegation, foreign ambassadors, diplomats, and chief representatives of diplomatic agencies and international organizations in Vietnam.
PM Nguyen Xuan Phuc stressed that Vietnamese people faced and overcome difficulties as well as challenges to keep peace, independence and freedom, actively innovate and integrate in the world with great achievements within 70 years ago.
On behalf of international guests and diplomatic delegations, Mr. EL Houcine Fardani sent congratulations to leaders of Vietnamese Party, State and people. He also congratulated Vietnam held the successful 12th National Congress of the Communist Party of Vietnam and National Election for the Politburo, the Party General Secretary, the Secretariat etc…
International friends believed that Vietnam will get successes of economic, social development strategies and achievements in the country's building and development, modernization.
Mr. EL Houcine Fardani pledged to develop further the relations with Vietnam, international countries and organizations via effective cooperation for general benefits.