Nguyen Ton Quyen, Secretary General of the Vietnam Timber & Forest Products Association is concerned that wood furniture exports from Vietnam are now facing a setback due to policy changes in many countries.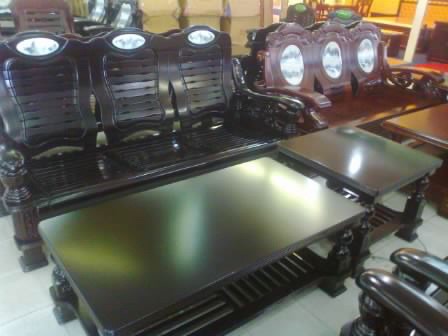 Vietnam's wood furniture exports faces setback (Photo: Ngoc Anh)
Vietnamese wood furniture is mainly exported to the United States and EU countries with a 45 and 30 percent mark up share respectively; however, now these two main markets are applying new policies such as the Lacey Act which will greatly hinder exports from Vietnam.
According to Hans Farhammer, first secretary and head of the EU Delegation to Vietnam, the thrust of the US Lacey Act is to make it a federal crime to knowingly export wood sourced illegally, either from illegal logging, stealing or originating from "suspicious" sources.

Similarly, Japan, Australia, New Zealand, Switzerland and Norway are also applying strict measures against illegal wood products.
Meanwhile, the Vietnamese government has ordered to shut the gates of forests in the country to protect the natural resources and banned the use of forest wood to make furniture for export. As a consequence, wood manufacturers are relying on wood imports from neighboring countries to make furniture products.
Vietnam has about 3,400 enterprises employing 300,000 people in the timber sector. Firms now are compelled to import wood from other countries, often without knowing its sources.
To facilitate Vietnamese wood products to enter the EU market, the Ministry of Agriculture and Rural Development and the European Union held a workshop on Forest Law Enforcement, Governance and Trade under the Voluntary Partnerships Agreement (FLEGT/VPA).
The FLEGT Action Plan, approved by the EU in 2003, will take effect in March 2013 taking into account EU concerns of illegal logging and trading. It will also set out a supply-and-demand method to combat the problem.
Last year, wood exports touched US$3.34 billion, 10 times higher than in 2000. In 2009 there was 16.24 million hectares under forest cover in Vietnam, 48 percent of which provided raw wood for the export industry. Still, Vietnam has to import wood from other countries like Malaysia and Laos.
Deputy Minister of Agriculture and Rural Development, Hua Duc Nhi said that Vietnam's industry faced challenges like low efficiency and productivity, a disadvantaged financial environment and meeting new requirements on logging and sustainable timber resources.
Hans Farhammer believes that Vietnam needs to build up an effective system to trace back the source of timber to ensure its export market.