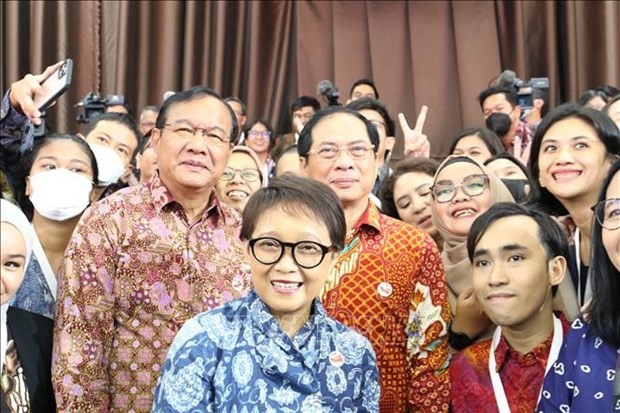 Foreign Minister Bui Thanh Son (C, red shirt) and his Lao, Indonesian counterparts posing for a photo with reporters at ASEAN Foreign Ministers' Retreat (Photo: VNA)
The important decisions are that measures to improve the group's institution effectiveness, implement the five-point consensus on the Myanmar issue, and support Timor Leste.
The statement was made on February 4 by Ambassador Vu Ho, acting head of SOM ASEAN Vietnam, in an interview granted to Vietnam News Agency correspondents in Indonesia on the outcomes of the retreat.
Ambassador Ho said that the Vietnamese delegation not only discussed with other delegates to identify ASEAN's focuses and priorities, but also actively proposed many practical initiatives that are in line with the common concerns of other countries and the region.
Foreign Minister Son announced Vietnam's plans to organise activities to promote inclusive recovery in ASEAN, respond to climate change, energy transition, as well as a number of cooperation activities with partners such as the Republic of Korea Day in ASEAN, and ASEAN-China meetings on the implementation of the Declaration on the Conduct of Parties in the East Sea (DOC).
At the event, the Vietnamese official emphasised the meaning of a Community that truly serves the people and benefits the people. Accordingly, he suggested ASEAN pay more attention to cooperation and equitable and inclusive development in sub-regions, contributing to ensuring that people enjoy equitably the fruits of the Community building process.
Minister Son also raised Vietnam's view and stance on many issues that directly affect ASEAN and peace and security in the region.
According to Ambassador Vu Ho, Vietnam's opinions on the East Sea and Myanmar are assessed balanced and constructive, contributing to promoting the values of dialogue and cooperation, upholding international law, while promoting the spirit of solidarity and mutual assistance, and reinforcing ASEAN's principle stance.
He added that this ASEAN Foreign Ministers' Retreat put forward important orientations for the group's activities in 2023.