Answering reporters' question about a shot dead fisherman in an attack by an unidentified foreign boat in Truong Sa (Spratly) Archipelago, Ministry of Foreign Affairs Spokesman Le Hai Binh said Vietnam fiercely condemns inhuman actions including the use of guns and force against Vietnamese fishermen on December 1.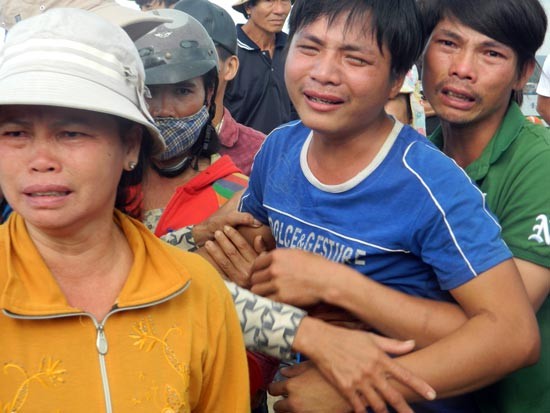 Relatives of shot dead fisherman Truong Dinh Bay wail when seeing his body (Photo: SGGP)
Right after receiving information about the attack on the fishing boat QNg 95861 TS from the central province of Quang Ngai, the ministry has closely worked with authorized agencies and instructed Vietnam's representative agencies in nations near the East Sea to urgently make clear the case.
On the same day, the Vietnam Fisheries Society issued a document opposing the attack.
The document cited a report from Quang Ngai Province Fishing Association that on November 21 captain Nguyen Van Cu operated his boat QNg 95861 TS with 13 fishermen aboard to depart from Sa Ky port. The boat has the capacity of 710CV.
On November 26, it anchored near Suoi Ngoc (Alicia Annie) Reef, Truong Sa Islands. Twelve crew members moved from the boat into a smaller motor boat to catch fish and two others namely Nguyen Van Cu and Truong Dinh Bay stayed on the boat.
At 6:15 p.m. on the same day, a foreign boat carrying eight armed men approached the QNg 95861 TS. Three moved into the Vietnamese boat, searched and constrained Vietnamese fishermen. One subject shot Mr. Bay to death on the spot and continued opening a burst of gunfire in the cabin of the boat.
Seeing Mr. Bay shot, Mr. Cu resisted against the attackers, snatched a gun and threw it into the sea. At that time, the three foreign men left the Mr. Cu's boat and swam towards their boat.
Authorized agencies are inspecting to identify the foreign boat.
The Vietnam Fisheries Society affirmed that action by the foreign boat is illegal and inhuman, infringing Vietnamese waters territory and greatly affecting the life and production of Vietnamese fishermen.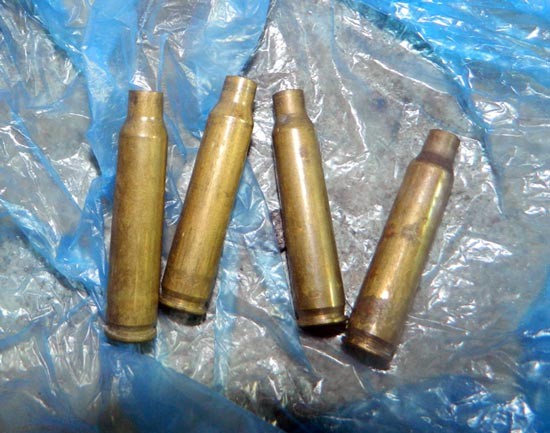 Four bullet shells that fishermen took from the attack's site and handed over to the police (Photo: SGGP)
It fiercely opposed the attack and demanded compensation for Mr. Bay's family.
A source from investigation agencies yesterday revealed that four bullet shells that fishermen taken from the attack's site might be from an AR15 rifle.
On the same day, some teams visited, condoled with the dead fisherman's family and gave them financial assistances. The Vietnam General Confederation of Labor gave them VND30 million (US$1,334), Thanh Nien Newspaper VND10 million and Binh Son District People's Committee in the province VND4.5 million.