The Venice film festival kicks off Wednesday with a spotlight on the new generation of filmmakers as 41-year-old US director Darren Aronofsky raises the curtain with "Black Swan."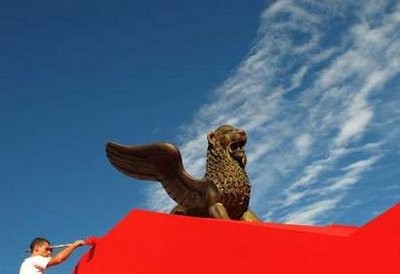 A worker paints a wall under a golden lion, a symbol of the Venice Film Festival, in front of the Cinema Palace in Venice August 30, 2010. (Photo: AFP)
The psychological thriller by Aronofsky, who won in Venice in 2008 with "The Wrestler" starring Mickey Rourke, is set in the cutthroat New York ballet world.
Other under 50s in the competition are Oscar-winner Sofia Coppola, 39, of the United States and 43-year-old Francois Ozon of France.
Coppola, who won a best screenplay Oscar for "Lost in Translation" (2003), offers a dramatic comedy "Somewhere," set in Hollywood and produced by her serial Oscar-winning father Francis Ford Coppola.
Perhaps compensating for his youth, Ozon has tapped mature talent in veteran French actors Catherine Deneuve and Gerard Depardieu in his comedy "Potiche".
A total of 24 films will be in competition for this year's Golden Lion with the late addition of "Essential Killing" by Polish director Jerzy Skolimowski, about a member of the Taliban (Vincent Gallo) captured by Americans and transferred to Europe for interrogation.
Gallo, of New York, is already present in the festival lineup as the director of the in-competition "Promises Written on Water," a sombre tale about a girl with a terminal illness.
A "surprise" candidate is to be announced on Sunday.
Meanwhile, organisers fear that Iranian authorities were unlikely to allow prominent filmmaker Jafar Panahi to travel to Venice for the screening of his short film "The Accordion" on Wednesday.
Expressing their "solidarity" with Panahi, who won the Golden Lion here in 2000 for "The Circle," they said in a statement: "We hope that in the coming days we will receive comforting news."
Panahi is likely to be represented at the screening by his colleague Mazdak Taebi, the statement said.
Besides Aronofsky and Coppola, three other US directors are in the running for the Golden Lion: Kelly Reichardt with "Meek's Cutoff", Julian Schnabel with "Miral" starring Willem Dafoe and Monte Hellman with "Road to Nowhere".
Italy has four films in competition at the event running through September 11, including Saverio Costanzo's adaptation of the best-selling Paolo Giordano novel "The Solitude of Prime Numbers".
Among the three French candidates is "Black Venus" by Tunisian-born Abdellatif Kechiche, whose "The Secret of the Grain" won the special jury prize in Venice in 2007.
"Black Venus" relates the story of a southern African slave of Dutch farmers who was exhibited as a freak show attraction in Europe in the early 19th century, forced to gyrate her large buttocks.
Only three Asian films are in competition at the world's oldest film festival.
Two are from Japan: "13 Assassins" by Miike Takashi and "Norwegian Wood" by Tran Anh Hung; and one from China, "Detective Dee and the Mystery of Phantom Flame" by Tsui Hark.
The event will screen 79 full-length world premieres from 34 countries including a work from the Dominican Republic for the first time, about its neighbour Haiti.
Quentin Tarantino heads the jury, which will also include fellow directors Arnaud Desplechin of France, Guillermo Arriaga of Mexico and Italian Gabriele Salvatores.
They will choose winners for the Golden Lion for best film, Volpi Cups for best actor and actress, and a special jury prize, among other awards.
It will be the 67th edition of the Mostra, which began in 1932 in the lagoon city and now has a budget of 12 million euros (15.7 million dollars), including seven million from the Italian government.

Following is a list of the films that will compete in the Venice film festival starting Wednesday.
A 24th "surprise" entry will be announced on Sunday.

"Black Swan" by Darren Aronofsky (US)
"La Pecora Nera" (Black Sheep) by Ascanio Celestini (Italy)
"Somewhere" by Sofia Coppola (US)
"Happy Few" by Antony Cordier (France)
"The Solitude of Prime Numbers" by Saverio Costanzo (Italy)
"Ovsyanki" (Silent Souls) by Aleksei Fedorchenko (Russia)
"Promises Written in Water" by Vincent Gallo (US)
"Road to Nowhere" by Monte Hellman (US)
"A Sad Trumpet Ballad" by Alex de la Iglesia (Spain/France)
"Black Venus" by Abdellatif Kechiche (France)
"Post Mortem" by Pablo Larrain (Chile/Mexico/Germany)
"Barney's Version" by Richard J. Lewis (Canada/Italy)
"Noi Credevamo" (We Believed) by Mario Martone (Italy-France)
"La Passione" (The Passion) by Carlo Mazzacurati (Italy)
"13 Assassins" by Miike Takashi (Japan/Britain)
"Potiche" by Francois Ozon (France)
"Meek's Cutoff" by Kelly Reichardt (US)
"Essential Killing" by Jerzy Skolimowski (Poland)
"Miral" by Julian Schnabel (US/France/Italy/Israel)
"Noruwei no mori" ("Norwegian Wood") by Tran Anh Hung (Japan)
"Attenberg" by Athina Rachel Tsangari (Greece)
"Detective Dee and the Mystery of Phantom Flame" by Hark Tsui (China)
"Drei" (Three) by Tom Tykwer (Germany)