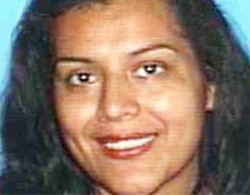 Reyna Marisol Chicas, head of the religious group
LOS ANGELES, Sept 19, 2010 (AFP) - Thirteen members of a "cult-like" religious group were found alive and well on Sunday after authorities mounted a major search amid fears they had been planning a mass suicide, police said.
The five adults and eight children, described as El Salvadorean immigrants, were found praying in a park in Palmdale, in the mountains north of Los Angeles, after they disappeared in the town on Saturday.
"No crime has been committed and there are no charges pending," said Captain Mike Parker of Palmdale sheriff's station, where the group was taken for "discussions about their future intentions."
The alarm was sounded overnight after the husbands of two of the group's members reported they had been "brainwashed" and had disappeared in three vehicles.
Police described the group as a cult-like offshoot of a church in Palmdale, and said the women left goodbye letters. The children were believed to be between the ages of three and 17, while the another was 18.
Before they were found, Palmdale sheriff's station deputy Chris Dimmitt told AFP that they said they were going into the hills and wait for "The Rapture," an interpretation of Christian theology in which believers go to heaven to meet Jesus.