The United States said Monday that it did not envision the use of force in Syria in the wake of Libya as it renewed its call for President Bashar al-Assad to step down.
Republican Senator John McCain, speaking Sunday in Jordan, raised the prospect of military action to stop Assad's deadly crackdown on protests after the NATO intervention helped oust Libyan strongman Moamer Kadhafi.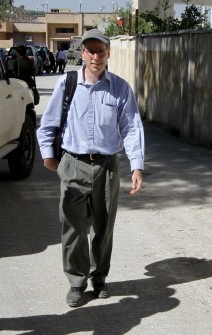 A picture dated June 20, 2011 shows US ambassador to Syria Robert Ford as he joins envoys from some 30 countries invited by Syria's foreign ministry to visit the the northern Syrian restive town of Jisr al-Shughur, 325 kms northwest Damascus.
Asked if President Barack Obama's administration supported force in Syria, State Department spokeswoman Victoria Nuland told reporters: "I think our position on this hasn't changed."
"The vast majority of the Syrian opposition continues to speak in favor of peaceful, nonviolent protests and against foreign intervention of any kind, and particularly foreign military intervention into the situation in Syria, and we respect that," she said.
But she reiterated the US view that, "It's time for Assad to step aside, it's time for the violence to end, it's time for a real dialogue about a democratic future to begin in a peaceful context."
Her remarks come as the United States brought home its ambassador in Damascus, Robert Ford, voicing concern for his safety after his highly public efforts to throw a spotlight on violence against demonstrators.
The Arab League will send a delegation on Wednesday to Syria. The 22-member body has called for dialogue between Assad's regime and the opposition, a proposal denounced by Syrian state media.
"We obviously support the Arab League delegation's stated intent that their number one message to the Assad regime will be that the violence in all of its forms, the intimidation, the brutality, the arrests, the torture, have to stop," Nuland said.
"We will see if Assad will listen this time. I wouldn't say that our expectations are terribly high," she said.