The tunnel collapse accident in Da Dang-Da Chomo hydropower plant was caused by complicated geological conditions, which made many contractors quit before, said representative of the plant investor Vo Nhat Thang at a meeting with the Party Committee of the Central Highlands province of Lam Dong yesterday.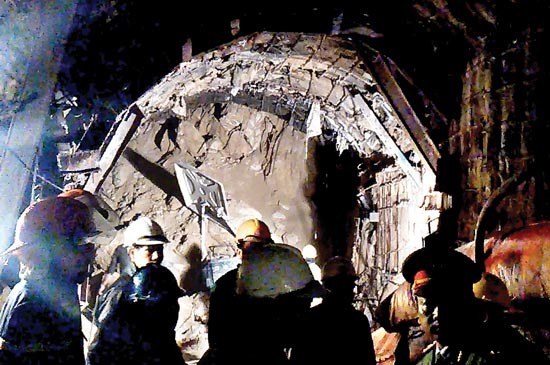 A collapsed tunnel section at Da Dang-Da Chomo hydropower plant in Lam Dong province (Photo: SGGP)
Mr. Vo Nhat Thang who is the chairman and general director of Vietracimex which is the parent company of the plant investor Long Hoi Construction Investment Company also apologized for the accident.
According to Mr. Thang, formerly two contractors including Lung Lo and Vinaconex Company had attended in building the tunnel item of the project but then quitted because of complicated geological conditions.
The accident occurred during constructing the tunnel by Song Da 505 Company workers. Experts said that the constructing had made ground shaking meanwhile the area had been soaked with rainwater. Two factors resulted in the collapse.
Before the incident, authorized agencies in Lam Dong province had inspected the tunnel site and warned of weak terrain. They proposed the investor to mind fortifying the tunnel to prevent possible problems especially during the flooding season.
The province Department of Construction asked the investor to supplement documents on work quality management and seriously obey by safety regulations in an April inspection.
Stating at the meeting, the province Party's Committee Secretary Nguyen Xuan Tien said that the tunnel collapse was the most serious accident used to occur in the province. After the case, relevant sides must reconsider complying with the process of work execution operation, especially underground items from survey, design to construction.
On the same day, the Ministry of Construction sent a report to the Prime Minister on the tunnel collapse and proposed the Government to instruct it together with the Ministry of Industry and Trade and Lam Dong People's Committee to assess the accident reason and held relevant sides responsible.
Da Dang-Da Chomo hydropower project was started in December, 2003, according to the report. The project investor was Civil Engineering Construction Corporation No.5 (Cienco 5) at that time. By 2007, it was transferred to Long Hoi Company.
The project's technical design consultant is the Chinese Nanning Water Conservancy Electric Power Design Institute and construction supervisor is Nhat Tang consulting company.
At first, the water conduit tunnel item was implemented by Lung Lo 2 Construction Company. It was then transferred to Underground Works Construction Joint Stock Company who dug the first 600 meters of the tunnel.
Song Da 505 Company was building concrete covers for the tunnel section when the accident occurred. The rest part will be constructed by Song Da 10 Company.
Related article:
11 rescued workers in collapsed tunnel discharged from hospital