The northernmost central province of Thanh Hoa has sent a writing report to the Prime Minister on abnormal massive fish deaths in coastal Tinh Gia district, said deputy chairman of the provincial People's Committee Nguyen Duc Quyen yesterday.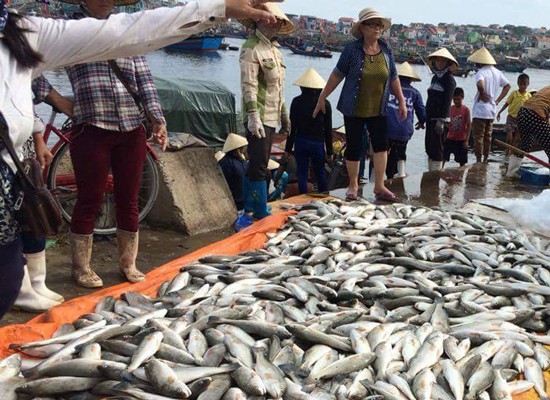 Dead fish collected in Tinh Gia district, Thanh Hoa province for the last few days (Photo: SGGP)
According to the report, fishermen found some natural marine species die and wash on the shores of Tinh Hai commune from the waters 300-500 meters behind Nghi Son Refinery's port on September 5 and 6. About 100 kilograms of dead fish have been collected so far.
Moreover, about 47.45 tons of farmed fish died abnormally in Nghi Son island commune on September 8, leaving damage to 21 out of 66 households.
On the same day, fishermen along Bac Yen hamlet, Hai Yen commune continued seeing dead natural fish wash ashore. About 200 kilogram of dead flounder, snapper, perch and other species have been collected.
Authorized agencies in the province have inspected dead fish areas and found red brown colored sea water at the port of Nghi Son Refinery and fish farms in Nghi Son commune.
Water samples have been taken and sent to the Marine Resources and Environment Institute in Hai Phong city.
Preliminary testing results prove that Hairoi-Creratium furca algae blooming caused red tide. A liter of seawater taken from the farms contained 8 million algae cells and 500,000 cells per liter at the port.
Therefore, the alga blooming is determined to be initial reason for the large scale fish deaths in Thanh Hoa province.
There are many different reasons for the phenomenon. The main cause in Tinh Hai and Nghi Son waters is a huge volume of organic chemical from the mainland swept out to sea by rainwater.
The extensive fish deaths have affected the life and production of local citizens. So the Thanh Hoa province People's Committee has proposed the Prime Minister to instruct related ministries to inspect the issue and specify reasons.
Specifically, the Government should ask the Ministry of Natural Resources and Environment and the Ministry of Agriculture and Rural Development to guide the province to deal with the algae blooming and supplement the seawater quality observation spot at Nghi Son Refinery into the annually national environment surveillance program.