BANGKOK, Oct 20, 2011 (AFP) - Thailand's premier said Thursday that it was impossible to protect all of Bangkok from the country's worst floods in decades, describing the situation as a "national crisis".
"We cannot block the water forever," Prime Minister Yingluck Shinawatra told reporters, adding that the government would choose which parts of the city to allow the water through to minimise the impact.
"The longer we block the water the higher it gets," she said. "We need areas that water can be drained through so the water can flow out to the sea."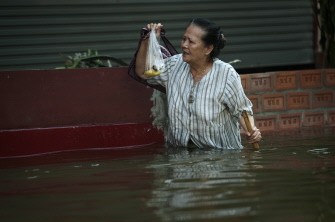 AFP - An elderly woman walks with a cane in floodwaters as water levels rose after a mud and sandbag wall collapsed in Bang Bua Thong in Nonthaburi province, suburban Bangkok, on October 19, 2011.
The government has reinforced the city's floodwalls in an attempt to prevent the floods pouring into the densely populated city from the central plains, which are several metres under water in places.
Inner Bangkok has so far escaped major flooding as the authorities divert water to areas outside the main capital in a bid to prevent the Chao Phraya River bursting its banks and flooding the political and economic heartland.
But efforts to keep the city of 12 million people dry have been complicated by a seasonal high tide.
"Flood waters are coming from every direction and we cannot control them because it's a huge amount of water. We will try to warn people," said Yingluck, a political novice before taking office barely two months ago.
"This problem is very overwhelming. It's a national crisis so I hope to get cooperation from everybody," added the premier, who is the sister of fugitive former leader Thaksin Shinawatra.
Three months of heavy monsoon rains have killed 320 people, damaged the homes and livelihoods of millions of people, mostly in northern and central Thailand, and forced tens of thousands to seek refuge in shelters.
Currently, about one-third of Thailand's provinces are affected.
The opposition Democrats are calling on the government to declare a state of emergency to make it easier to control people and stop them damaging dykes to ease the flooding in their own areas.
Bangkok governor Sukhumbhand Paribatra -- a Democrat -- warned on Wednesday that seven districts in northern and eastern Bangkok were at risk of inundation because of a broken dyke.
He advised residents in those areas to unplug electrical appliances, move belongings to higher ground and study the city's evacuation plan, saying they had 24 hours to prepare for possible flooding.
The authorities have failed to protect a number of major industrial parks from the gushing brown water, which has inundated hundreds of factories, disrupting production of cars, electronics and other goods.
The government says more than half a million people have been left without work.
Most of Thailand main tourist attractions -- including the southern islands of Samui, Phuket and Phi Phi -- have been unaffected. Bangkok's main airport is still operating as normal and its flood defences have been reinforced.