The Vietnam Association of Seafood Exporters and Producers (Vasep) said that this year Vietnamese shrimp export turnover is expected to reach only US$3 billion, down US$1 billion over last year. Meantime, breeders in major shrimp farming areas in the Mekong Delta have fallen into heavy losses because of diseases and price drop.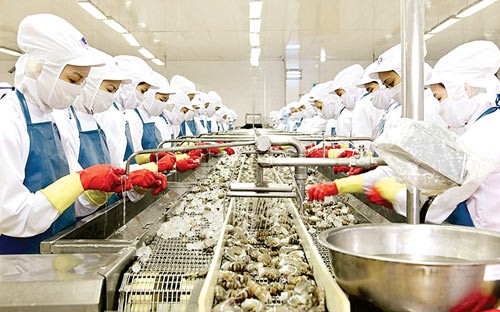 Vietnam's shrimp exports face difficulties because of import reduction from many nations (Photo: SGGP)
Latest statistics by the Department of Agriculture and Rural Development in Cau Ngang district, Tra Vinh province show that 41 percent of over 6,000 shrimp breeders suffer losses this year, nearly 11 percent break even and the rest make insignificant profit.

Chairman of Thanh Phuoc commune People's Committee Vo Bang Truc said that most locals live by shrimp farming and have been hard hit by price plunge and diseases. It is estimated that 80-90 percent of breeders in the commune incurs losses or break even.

The situation of businesses has not been better than farmers.

Director General of Thuan Phuoc seafood and trading company Tran Van Linh said that many nations have reduced imports and export prices dropped about 30 percent, resulting in export value plunge. Exchange rate fluctuations have also affected the shrimp industry's competitiveness.

Mr. Ho Quoc Luc, director general of Sao Ta food company in Soc Trang province, said that most input costs have highly increased while output has sharply reduced, putting them in full of hardships.

Exports fail to get targets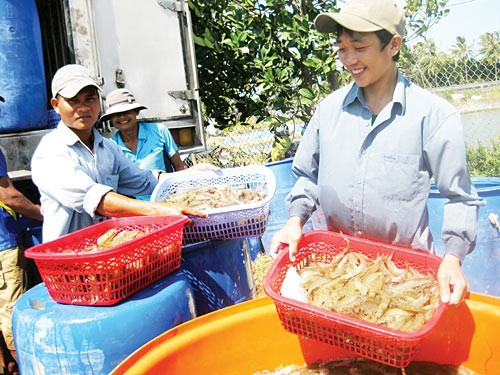 Breeders harvest while leg shrimp in Soc Trang (Photo: SGGP)
Ca Mau province is the country's top shrimp farming and export but this year it is unlikely to complete plans because a slew of difficulties have surrounded the industry.

Export turnover is expected to near US$1.1 billion for the whole year, 18 percent lower than last year, according to the province's People's Committee.

Director of the Department of Industry and Trade in Kien Giang province Huynh Van Ganh forecast 18.37 percent turnover fall this year.

The department in Tra Vinh province and many others also revealed similar condition due to market fluctuation and low export prices.
Therefore, Vasep forecast a year on year reduction of US$1 billion export turnover this year.

According to the association, the white leg shrimp industry has positively recovered in Indonesia and India, putting more pressure on Vietnam as its white leg shrimp is priced US$1-3 higher than other nations'.

Many businesses said that the challenge of Vietnamese shrimp industry has not come from processing but farming. Plants have been equipped with modern technologies and skills of workers in the industry have much improved.