The dry season this year in Ho Chi Minh City has been fairly comfortable for both citizens and businesses, as compared to the discomforts of last year, thanks to the efficient and steady supply of electricity, launched by the government via its 'Save Electricity Movement' (SEM).
Effectiveness of SEM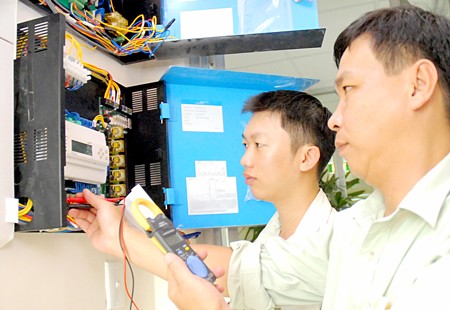 Using the inverter system to save electricity in an office building (Photo: SGGP)
Statistics show that the private sector, public lighting system and offices use about 70 percent of the total electric supply. Therefore, it comes as no surprise that the efficient implementation of SEM, brought in huge dividends.
The effectiveness of SEM was checked out by members of the Women's Union from District 3 in Ho Chi Minh City, who landed up unannounced on a hot sultry August day at Hoang Thi Tuyet's house on Tran Van Dang Street in District 3.
Tuyet's house is well lit with natural light streaming in from a skylight and wide open windows. With so much natural light, no electric bulb is required and moreover, the fresh wind blowing in from the windows cools the room enough to reduce dependency on electric fans.
Tuyet said that when adopting SEM, her family found it difficult at first to give up the air conditioner or the electric fans and use natural light instead of the electric light. However, they soon became used to it and were able to save more than half on their power bill each month.
Tuyet's family is one of the 5,300 "Power Saving Families" in District 3, saving around 4 million kWh in just a short time (about VND5.6 billion). From amongst these families, 400 were honored with the "Typical Power Saving Family" city award.
According to Nguyen Thi Anh Nguyet, Head of the Women's Union, the joint cooperation of organizations, associations and citizens in propagating the idea of saving electricity is essential in bringing SEM to the public.
Power saving in manufacturing process
The Hai Viet Company, located in Dong Xuyen Industrial Zone in the southern city of Vung Tau has successfully saved millions of kWh per annum, just by rearranging the stages in its manufacturing process.
Earlier the company faced a very high electric bill as processing fresh aquaculture requires the company to use electricity at all times, creating a very high expense for the company, said Nguyen Dinh Hoa, Head of the Mechanics and Refrigeration Workshop of the company.
Moreover, despite using modern and power-efficient equipment right from the start, the electricity expense this year was higher than previous years.
A few years ago, the company board members decided to upgrade the existing power system and eliminated all unnecessary steps in the manufacturing process. Seeing positive results from this move, the company was quick to adopt SEM by turning off unnecessary machines, avoiding starting engines and running the freezer system during rush hours.
Such measures, among many others allowed the company to cut power from 3kWh to 1.7 kWh. The first 6 months of 2011, saw a decrease of 15.5 percent of power use compared to the same time in 2010 and 20 percent less compared to 2009.
Two other companies have been successful in saving electricity effectively. The Ben Tre Seafood Company and the POMINA Steel Mill saved 25-30 percent and 20 percent respectively in the first 7 months of this year, and have now been nominated for an award by the Ministry of Industry and Trade.
According to Nguyen Van Ly, Vice President of the Ho Chi Minh City Power Corporation, businesses need not be anxious about being checked by the government. Actually by adopting strictly recommendations by experts, 70 businesses in the city were able to save about 40 million kWh, 10-15 percent of the city's total power usage.
Le Anh Tuan, Deputy Head of HEPZA, said that since the government has already issued regulations on using power, there should be strict sanctions on businesses that breach these regulations. Besides, authorities should also ask companies to audit power use and modernize their technologies with assistance from the government.