The Mekong delta province of Soc Trang has finished all preparations for the 2nd Vietnam Rice Festival to take place there on November 8-11, said Mr. Nguyen Trung Hieu, chairman of the provincial People's Committee.
The four-day event aims at glorifying the commodity, which makes Vietnam known as a world leading rice exporter, he said.
"The festival is a significant economic, cultural, social and tourism event of the country, mainly to honor those who make and export Vietnamese rice, also called Vietnamese pearl."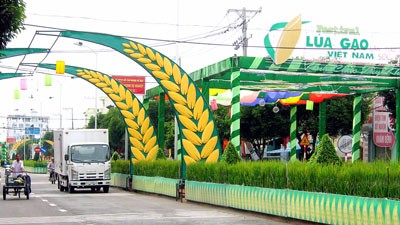 Hung Vuong Street in Soc Trang City, Soc Trang Province is "the rice street" during the 2nd Vietnam Rice Festival (Photo: Huynh Loi)
The festival includes displays, exhibitions, fairs, seminars and scientific workshops; activities to promote investment, trade and business relations among domestic and foreign partners, cultural and sports activities which are typical in the Mekong delta province, home to a majority of Khmer people, according to the provincial leader, head of the organizing panel.
The festival is coincided with the Khmer people's Water Festival – the most important event in the year of the ethnic minority group.
The first Vietnam Rice festival took place in 2009 in Hau Giang, another Mekong Delta province.
Rice Festival 2011 highlights
- Opening Ceremony: Nov 8, 8 pm
- Closing Ceremony: Nov 11, 8 pm
- 3 workshops: Positioning Vietnamese Rice; Development Road for Quality of Vietnamese Rice; Export of Vietnamese Rice
- Photography contest: Vietnam Rice and Global Climate Change
- Contest of rice brands
- Beauty contest for countryside ladies
- Khmer people's traditional boat race during their Water Festival
- Fairs and exhibitions for trade and investment promotion, farm produce promotion