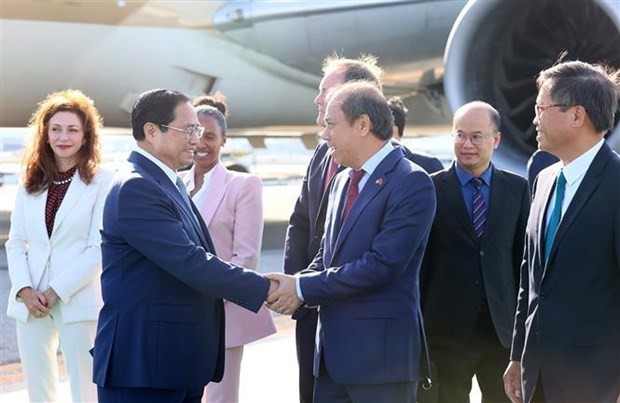 Vietnamese Ambassador to the US Nguyen Quoc Dung (front row, second from right) welcomes Prime Minister Pham Minh Chinh (front row, first left) in San Francisco. (Photo: VNA)
During his stay in the US until September 23, the PM is scheduled to attend and address the high-level general debate of the UN General Assembly, UN Summits, and high-level meetings on global issues such as climate change and pandemic response. He will also engage in bilateral meetings with the UN Secretary General, President of the 78th session of the UN General Assembly, and leaders of other countries and international organizations.
Within the framework of his bilateral activities in the US, PM Chinh will have meetings with the US Vice President, leaders of the US Congress, national security advisor, and some members of the US cabinet. He will meet the Vietnamese community and Vietnamese officials working at UN organizations, visit a number of leading US universities and businesses and the NASDAQ stock exchange, attend Vietnam - US trade and investment promotion conferences, and witness the signing ceremony of an agreement on establishing a twinned relation between Ho Chi Minh City and New York City.
PM Chinh's trip holds great significance, sending out a message of the Party, State, and Government of Vietnam to the US and international friends on a peaceful, cooperative, and integrating Vietnam that is joining more actively, proactively, and effectively in global processes, making important contributions to the Vietnam - UN and Vietnam - US relations in line with the foreign policy of the 13th National Party Congress.