Many types of Vietnamese goods have faced strong competition of imported products from nations in the Southeast Asian region, while local businesses have met difficulties in broadening the presence of their products in these markets.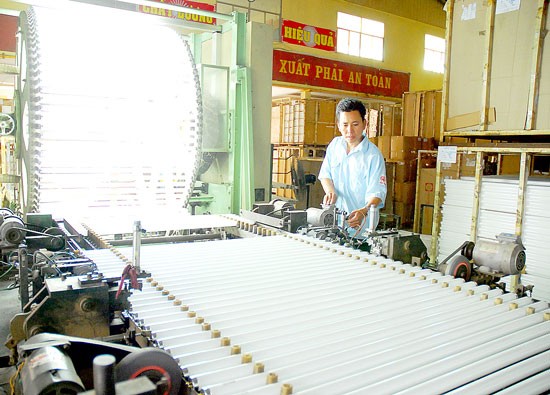 Production of fluorescent lamps for exports at Dien Quang Joint Stock Company (Photo: SGGP)
For the last ten years, many businesses in Ho Chi Minh City have considered Cambodia as a key export market. The city authorities have hosted several trade promotional activities to open ways for Vietnamese goods to this market.

Household appliances, chemicals and cosmetics, fertilizers, pesticide and industrial machines with good quality and suitable prices have been popular in Cambodia.

Cambodia is the only market in ASEAN where Vietnam has been able to maintain export growth and trade surplus.

The Ministry of Industry and Trade reported that Vietnam's export value to Cambodia reached US$2.87 billion and import value hit US$496 million last year.

During a trip to Cambodia in May, Sai Gon Giai Phong reporter however found Vietnamese goods in disadvantageous condition compared to Thai, Chinese and Malaysian commodities. Local supermarkets have been full with Thai not Vietnamese goods.

Vietnam has determined to step up investment and exports to Myanmar since this market has been opened. Three years have gone by with only few Vietnamese brands being able to do so such as Dien Quang lamp and Binh Dien fertilizer.

Vice chairwoman of the HCMC Investment and Trade Promotion Center Pho Nam Phuong said that the Myanmar Government had opened their door to call for foreign investment. However distribution field has mostly undertaken by local businesses.

On the other hand, Vietnamese banks have not opened any branch in Myanmar, forcing businesses to make payment via the third bank in Singapore. Vietnamese businesses have also paid high freights to transport goods to Myanmar and faced with many complicated customs procedures.

Vietnamese goods have just begun entering Singaporean supermarkets and stores via Vietnamese Goods Fair hosted by the Singaporean leading retailer NTUC FairPrice this year.

One of reasons for the modest presence of Vietnamese goods in ASEAN countries is that businesses have paid little heed to these markets, said an expert. ASEAN is a potential market, having the world's third largest population and occupying 30 percent global trade. Accessing ASEAN is not as risky and difficult as approaching the EU, the US and Japan.

They have also paid insufficient attention to local market permitting many import items to overwhelm Vietnamese goods.

Surveys show that Thai goods have lured large customers at from electronic centers, supermarkets, convenient stores to markets.

According to the Ministry of Agriculture and Rural Development, Vietnam's import turnover of vegetables and fruits reached US$309.5 million in the first seven months this year. Of these the import value from Thailand was US$106 million, accounting for 34.2 percent of the total and increasing 63 percent over the same period last year.
Related article:
Weak competitiveness puts Vietnamese businesses in challenges from AEC