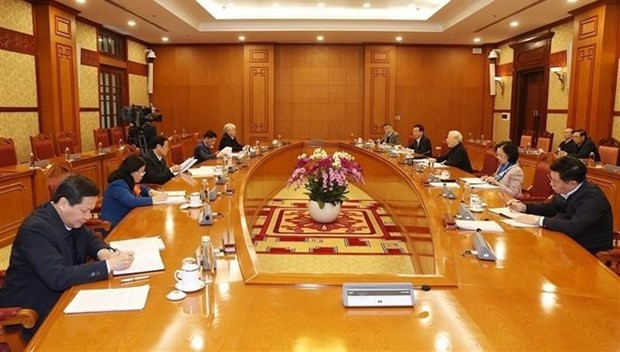 At the meeting (Photo: VNA)
The leader lauded Party Committees and administrations at all levels for their serious implementation of directives issued by the Secretariat and the Prime Minister regarding the organization of Tet, the biggest and longest festival in Vietnam.
Regarding the tasks in the coming time, he stressed the need to continue with the forecasting work to take response measures, and asked each agency and locality to map out specific plans for 2023 in order to fulfill targets set for the year.
The Secretariat will direct agencies and localities to resume operations following the holiday, and effectively materialise the Politburo's Conclusion No. 46-KL/TW on the macro-economic situation and key tasks and solutions for the coming time, the Party chief noted.
He also asked ministries, agencies and localities to focus on industrial production, construction and agricultural development, and provide more support for sectors affected by the Covid-19 pandemic like logistics, aviation, tourism, garment-textiles, footwear, and wood production and processing.
Party General Secretary Nguyen Phu Trong speaks at the event. (Photo: VNA)
Solutions should be rolled out concertedly to ensure national security, social order and safety, he said, urging them to intensify the fight against crimes, pay more attention to social welfare, and step up the communication work.
According to a report presented at the meeting, the Secretariat issued the directive on Tet celebrations at an early date and made good preparations, thus bringing about a happy, healthy, safe and economical festival to all.
The localities nationwide earmarked about VND9.5 trillion (US$404.81 million) to support over 25 million needy people during the festival, the report said.