The 11th Party Central Committee has decided to convene the 12th National Party Congress in Hanoi from January 20-28, Party General Secretary Nguyen Phu Trong announced.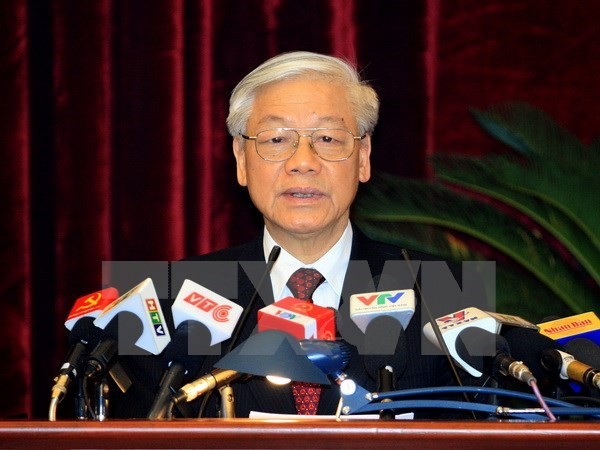 Party General Secretary Nguyen Phu Trong at the closing ceremony (Source: VNA)
The announcement was made in his remarks at the 13th meeting of the Party Central Committee that wrapped up in Hanoi on December 21 after eight days of sitting.
Reviewing work done during the eight-day meeting, the Party leader hailed documents submitted to the event as a product of brainpower and will of the entire Party, people and armed forces.
The documents feature new orientations to developing a socialist-oriented market economy, renewing the growth model and restructuring the economy. Other goals include accelerating industrialisation and modernisation, improving the efficiency of social management, social progress and fairness; beefing up natural resources management and environmental protection as well as resilience to climate change.
On the Party and political system building, the documents set aim for continuing to build a law-governed socialist State on the legislative, executive and judicial pillars, exercise democracy and reshuffle local administrations, the Vietnam Fatherland Front and socio-political organisations, and fine-tune legal regulations in line with the 2013 Constitution.
Stressing the need to continue realising Resolution on Party building adopted by the 11th Party Central Committee's fourth plenum, the documents push forward efforts to crack down on corruption and wastefulness, drive back the so-called "self-evolution" and "self-transformation", degradation in political ideology, ethics and lifestyle among a part of the Party members.
Turning to assessing the leadership and directions of the 11th Party Central Committee, the Party chief said the Party Central Committee, Politburo and Secretariat took prompt and flexible approaches to curbing inflation, stabilising the macro-economy and ensuring social welfare.
Progresses have been seen in education-training, health care, science-technology, and socio-culture, he said.
Amid the complicated developments in the region and the world, the Party Central Committee, Politburo and Secretariat have adopted sound solutions to resolutely defending national independence and sovereignty, maintaining socio-political stability and placing the country on track to wider global integration.
He said in the spirit of self-criticism and criticism, the Party Central Committee also pointed out existing shortcomings and weaknesses and learned from experience to do better job in the future.
The Party Central Committee also discussed and unanimously approved a list of personnel for the Politburo and Secretariat (12th tenure).
Concluding his speech, the leader asked the committee to uphold its sense of responsibility and fulfill assigned tasks, contributing to the success of the 12th National Party Congress.