North Korea's ruling party has named the son of absolute leader Kim Jong-Il as his heir apparent in an official document, a Japanese daily said Sunday.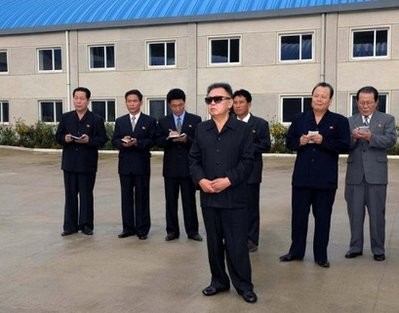 Undated picture released by North Korea's Korean Central News Agency shows North Korean leader Kim Jong Il (C) visiting a factory in Jagang province
The ruling Workers Party used the document to educate rank-and-file members in August, the Tokyo Shimbun newspaper reported, quoting North Korean sources.
The daily said it had seen photographs showing parts of the document, which it added was circulated by senior officials in the party's central Pyongyang chapter.
North Korea is reportedly preparing to hold a rare, major party meeting to pave the way for an eventual succession from Kim Jong-Il, 68, to his third and youngest son Jong-Un, who is in his late 20s.
But the meeting, originally set for the first half of September, has been delayed following devastating floods in the communist state, according to South Korean media reports.
The text said Jong-Un had "received a revolutionary education and influence from the beloved supreme commander (Kim Jong-Il) and his respected mother to equip himself with the dignity and qualities necessary for a great successor to the Songun (military-first) revolution," according to the daily.
It added that Kim Jong-Il had put his heart into giving his son the "qualities of an all-conquering great commander and an outstanding statesman excellent both in the arts of pen and sword".
The document quoted the son as saying that the leader has "taught me a profound truth about the rifle troops and helped me build ties with them".
Meanwhile, former Japanese senator and professional wrestler Antonio Inoki told Japanese media after leaving Pyongyang that North Korean people appeared to have a "tacit understanding" that Jong-Un is the leader's heir apparent.
However Inoki -- a frequent visitor to the reclusive communist state -- said in Beijing on Saturday that he had not seen photographs or portraits of Kim Jong-Un while he was in Pyongyang for the opening ceremony of a film festival on Friday.
He said he had the "impression" that the communist party meeting would be held immediately before the 65th anniversary of the party's founding on October 10.