MOUNT ARAFAT, Saudi Arabia, Nov 5, 2011 (AFP) - More than two million Muslims began massing Saturday on Saudi Arabia's Mount Arafat and its surrounding plain, marking the peak day of the largest annual pilgrimage.
Swarms of pilgrims who had spent the night in Mina, some 10 kilometres (six miles) northwest of Arafat surged through the roads leading to the mountain after midnight.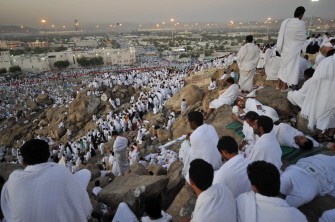 AFP - Muslim pilgrims gather to pray at Mount Arafat near the holy city of Mecca, early on November 5, 2011.
"I am responding to your call, God," they chanted in unison.
Many went on buses, while others set off on foot from Mina, a tent-village that comes to life only during the five-day pilgrimage.
Others took the Mashair Railway, also known as the Mecca Metro, to go to Mount Arafat and its surrounding plains, where prophet Mohammed is believed to have delivered his final sermon.
The Chinese-built railway is operating for the first time this year at its full capacity of 72,000 people per hour to ease congestion and prevent stampedes in which hundreds have been killed in past years.
The dual-track light railway connects the three holy sites of Mina, Muzdalifah and Mount Arafat -- areas that see massive influx of pilgrims during the hajj.
By sunrise Saturday, the Jabal al-Rahma, or the Mount of Mercy -- the highest point in Arafat, became mostly covered in white as pilgrims, dressed in white garments, climbed to the top to take up positions on the hills' slippery rocks and spend the day in prayers and reflection.
The gathering in the plain of Arafat symbolises the climax of the hajj which ends on Sunday with Eid al-Adha, or the Feast of Sacrifice.
More than 1.83 million pilgrims have arrived in the kingdom from abroad, marking a 1.5% increase compared with last year's figures, said Mecca governor Prince Khaled al-Faisal.
Several hundred thousand Saudis and foreign residents in the kingdom were also granted permits to join them, he added.