According to the Ministry of Agriculture and Rural Development, the Mekong Delta plans to sow over 1.53 million hectares in the winter spring rice crop.
Currently, provinces in the region are implementing rice consumption contracts over 200,000 hectares according to Decision 62 by the Prime Minister on coordination and connectivity in farm produce consumption and large scale paddy field development.

Ms. Sau Banh in Long My town, Hau Giang province said that she had reaped five thousands square meters of fragrant rice and traders paid her VND7,200 a kilogram, the highest level for the last many years.
Normal rice now fetches VND6,000 a kilogram and fragrant rice at VND7,400. With the cost price of VND4,000 a kilogram, farmers has got profit far exceeding the government's requirement to ensure 30 percent profit for them, says Mr. Nguyen Van Dong, director of the Hau Giang province Department of Agriculture and Rural Development.
2017 closed brightly for Vietnam's rice industry with export volume nearing 5.8 million tons, up 900,000 tons over 2016. Notably, high class and fragrant rice accounted for 60 percent to approximate three million tons, up 50 percent. Middle and low class rice accounted for only 12 percent with 700,000 tons.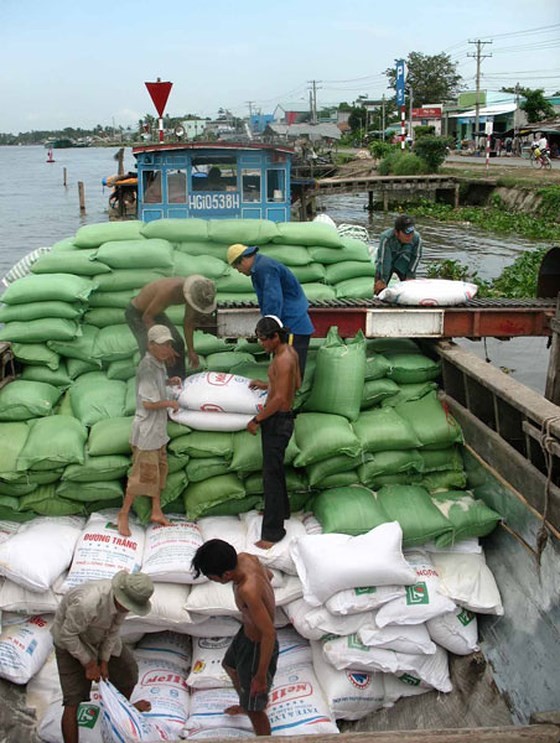 Rice bags are transported aboard in the Mekong Delta (Photo: SGGP)
Experts said that it was a remarkable change in the rice export industry.
Vietnam's rice export market this year comprises Malaysia, Bangladesh, the Philippines, Sri Lanka, China and Africa. Of these, China is the near market with advantages in transport and diversified demand suitable with Vietnamese rice varieties. Vietnam is able to face severe competition from Thailand to export rice to Africa, the Philippines and Malaysia, experts said..