Another important topic is stepping up cashless payment, while tackling difficulties for real estate market, prioritising capital for transparent and effective enterprises, and enhancing social investment attraction and public-private partnership.Localities need to take initiative for the disbursement of public investment capital and national target programmes, he reminded.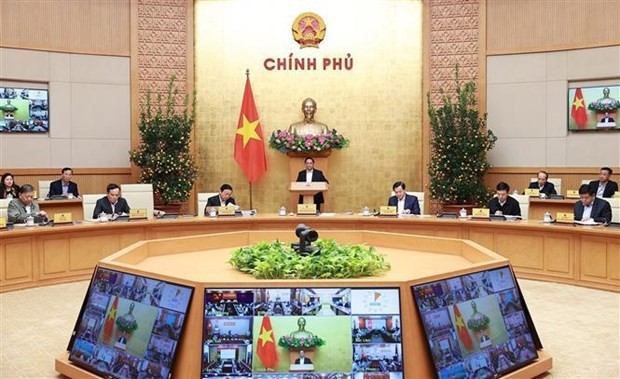 Prime Minister Pham Minh Chinh speaks at the meeting. (Photo: VNA)
Ministries, agencies and localities were also urged to effectively tap domestic markets, with a focus on the campaign "Vietnamese prioritise using Vietnamese goods". He also requested the Cabinet and localities to expand export markets and effectively optimise free trade agreements, especially new-generation deals.
They were also assigned to carry out projects on schedule and with quality to report to the Politburo, the Party Central Committee's Secretariat and the National Assembly; and effectively follow the Party's guidelines and the resolutions of the Party Central Committee, the Politburo, the Secretariat, the NA and Government within their assigned roles and authority.In January, key economic sectors such as industry, agriculture and tourism thrived.
However, difficulties and challenges are increasing both inside and outside the economy.
According to the global economic outlook report released in January, the World Bank (WB) forecast that Vietnam's 2023 economic growth will hit 6.3 percent, or 0.2 percent lower than the previous prediction, but still the second highest in the Asia-Pacific. Social welfare in Vietnam is guaranteed, with around VND9.5 trillion (US$413 million ) spent to benefit 25 million people.