Korea needs more guest workers for fish and livestock farming and agriculture in general, a Korean government official said.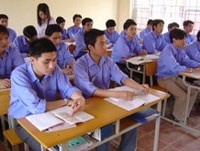 Laborers study foreign languages before they are sent to work abroad
Shin Ho Chul from Korea's Labor Ministry was speaking at a conference held by Human Resources Development of Korea and Viet Nam's Overseas Labor Center to publicize his country's licensing program for Vietnamese workers.

Director Pham Van Minh of the Overseas Labor Center said his organization had sent 21,270 online job applications to Korea in all.

Out of this number, he said, 16,565 Vietnamese people had signed job contracts and 14,355 of them had gone to Korea to work.

This year, 5,040 Vietnamese workers have been sent to Korea under the licensing program. Their pay is relatively high over there, averaging out at around US$1,000 per month.

Mr. Shin Ho Chul advised Vietnamese people wanting to work in Korea to apply as soon as possible.