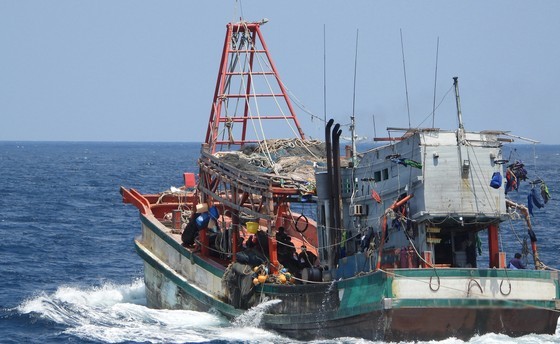 A fishing vessel in the waters of Kien Giang Province
As of this morning, Deputy Chairman of the People's Committee of Kien Giang Province Le Quoc Anh said that during the 180-day period, the province required relevant agencies and localities to check and control all fishing vessels leaving, departing and docking at the local ports. That move aims to make sure that all the boats meet technical safety conditions of qualified registration, food safety, licenses for exploitation, exploitation schedule, surveillance devices and other related requirements.
Besides, the functional agencies were assigned to make a list of fishing vessels having signs or high risk of IUU to monitor, manage and warn fishing boats losing connection with a vessel monitoring system (VNS) in more than ten days or exploiting in overseas waters to report to functional agencies and units for investigation, verification and handling in accordance with regulations.
In addition, the provincial functional units will arrange enough human forces to monitor, verify and trace all seafood loaded and exploited at Tac Cau fishing port in Chau Thanh District and An Thoi fishing port in Phu Quoc.
According to the IUU Steering Committee of Kien Giang Province, the locality has 3,867 fishing boats with a length of 15 meters subject to surveillance device installation. Among them, 3,642 vessels have been installed the devices and the rest ones are subject to registration removal, docking or management of banks.
It is expected that by the end of the second quarter of 2023, the working delegation of EC regarding four recommendation contents to Vietnamese IUU will have a working session in Kien Giang Province.