Jewish settlers resumed building across the West Bank on Monday after Israel allowed curbs to expire, frustrating US hopes of keeping the Palestinians in peace talks. Palestinian president Mahmud Abbas had repeatedly warned he would abandon the fledgling US-backed negotiations with Israel should the Jewish state keep constructing settlements on occupied Palestinian land.
But Israeli Prime Minister Benjamin Netanyahu refused to extend the moratorium on new settler homes in the occupied West Bank, which formally ended at midnight (2200 GMT Sunday).
The United States said it was "disappointed" the 10-month moratorium expired, and announced its envoy to the Middle East, George Mitchell, was on his way to the region in a bid to resolve the "dilemma."
As bulldozers across the West Bank lumbered into action on Monday, Abbas said he would consult his Fatah movement and the Palestine Liberation Organisation this week and meet with Arab foreign ministers on October 4.
"After all these meetings we may be able to issue a position to clarify what is the Palestinian and Arab opinion on this matter," Abbas said.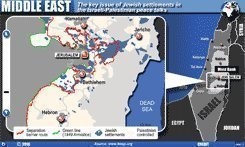 Interactive graphic on Jewish settlements in the West Bank, an issue which remains high on the agenda in crucial Middle East peace talks
Netanyahu has urged Abbas to stick with the talks, which were launched on September 2 after a 20-month hiatus.
US State Department spokesman PJ Crowley praised Abbas for not immediately backing out of the negotiations, saying his "restraint at this point is appreciated."
He added however: "We are disappointed, but remain focused on our long term objectives."
"We recognise that given the decision yesterday we still have a dilemma to resolve," Crowley said. "One way or the other the parties have to find a way to continue direct negotiations.