The country's industrial production improved this year with an estimated year-on-year rise of 7.6 percent, reported the General Statistics Office (GSO).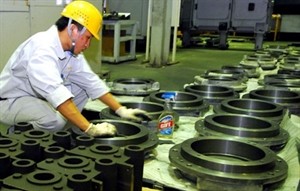 A worker inspects equipment at a foreign-invested company in the northern port city of Hai Phong (Photo: VNA)
The industrial production index (IIP) showed a tendency to go up in the remaining months of this year, the office said. It also noted that the country's IIP rose by 5.3 percent in the first quarter. It continued to increase by 6.9 percent, 7.8 percent and 10.1 percent in the second, third and fourth quarters.
GSO attributed this year's IIP growth to the significant rebound of the processing and manufacturing sector, which recorded a strong rise of 11.1 percent in consumption. Another factor that boosted the IIP growth was the effective contribution of over 7,000 new enterprises that became operational this year.
Some industrial products posting high IIP increases during the year included handsets (up by 167.5 percent), automobiles (29 percent), fresh milk (21 percent) and footwear (19 percent). Televisions (18 percent), cloth (16.9 percent) and electricity (12.7 percent) were included as well.
However, other products saw lower growth rates, such as animal feed, which only went up by 3.2 percent, and crude oil, which went up by 1.8 percent. Meanwhile, some products recorded industrial production decreases, such as motorbikes, which went down by 8.6 percent; liquid petroleum gas, by 8.3 percent; and powdered milk, by 3.8 percent.
The processing and manufacturing sector, which comprises approximately 70 percent of the country's total industrial output, still experienced a high increase in inventory index at 10 percent despite the encouraging consumption improvement. This observation proved that enterprises still contend with difficulties in terms of selling their products.
Major industries that showed higher levels of inventory included paper production (89.5 percent), shipbuilding (55.8 percent), beverages (41.1 percent) and food processing (40.1 percent). The metal production industry (38.3 percent) indicated the same performance.