Minister of Agriculture and Rural Development Cao Duc Phat and Minister of Industry and Trade Vu Huy Hoang have agreed to revoke the licenses of hydropower projects for not replanting forests in return for areas that have been chopped down to make room for their construction.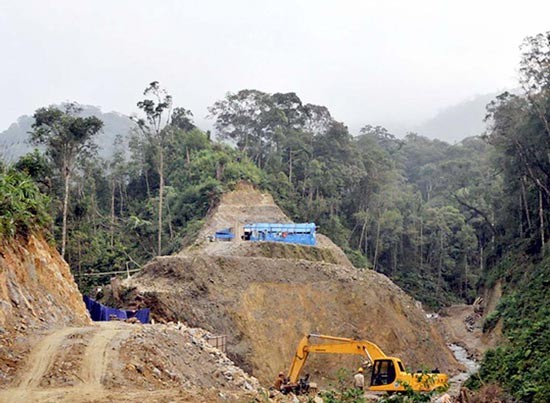 Thousands of hectares of forest have been chopped down to build a hydropower plant (Photo: SGGP)
The statement was made by Minister Phat at an online conference with leaders of 63 provinces and cities on the sluggish and delayed afforestation of hydropower projects.
Since 2006, the Government has issued a decree on the implementation of the Forest Protection and Development Law, which regulates that organs permitting deforestation to make space for hydropower construction or other purposes must ensure afforestation in return for chopped down areas.
The sixth session of the 13th National Assembly has also issued a resolution instructed hydropower projects that have come into operation to complete forest replanting by 2015.
At the NA's eighth session, deputy head of the Vietnam Administration of Forestry Nguyen Ba Ngai said that only 3.4 percent of lost forest areas have been replanted as of December this year.
From 2006 to 2014, 2,320 projects have been approved in 55 provinces and cities nationwide with the total replanting areas topping 76,040 hectares. Of these, only 2,540 hectares have been afforested, Mr. Ngai said.
Many provinces with the largest area in need of replanting have not afforested in compensation namely Lai Chau, Thanh Hoa, Gia Lai, Quang Ngai, Khanh Hoa, Tra Vinh and Binh Phuoc.
There have 27 projects with the required afforestation area exceeding 100 hectares each have not taken any action. Among them are Trung Son hydropower project in Thanh Hoa with 1,170 hectares, Lai Chau hydropower project with 1,533 hectares, Son La with 358 hectares and Hua Na – Nghe An with 1,433 hectares.

According to Mr. Ngai despite of drastic instructions by the NA and Government, local authorities have not paid approriate attention to afforestation. They have slowly solved related issues and sped up the projects' investors.
Due to the shortage of land for forest replanting, some localities have permitted investors to submit money to the forest protection and development fund. However it has not been used for afforestation or even spent on forest management and protection.
At the conference, deputy director general of the Vietnam Electricity Duong Cong Thanh said that the forest replanting has been behind schedule as local authorities have neither arranged land nor had a consistent price in compensation for a chopped down hectare.
Minister Phat said that the fund must be used for replanting forests. The use of it for forest protection and care must be carefully considered.
He said that both local authorities and project investors have not seriously implemented the NA and Government instructions on forest replanting. Many of them are unaware of what kind of trees should be replanted, where should it be and how should the fund run for it.

Representatives from several localities agreed with license withdrawal to projects that have long delayed afforestation or payment in compensation and proposed the Vietnam Electricity not to buy electricity from violators.

In related news, the Prime Minister has sent a document to the Ministry of Agriculture and Rural Development and provinces where have no replanting plan to report him specific plans by January 31 next year at the latest.