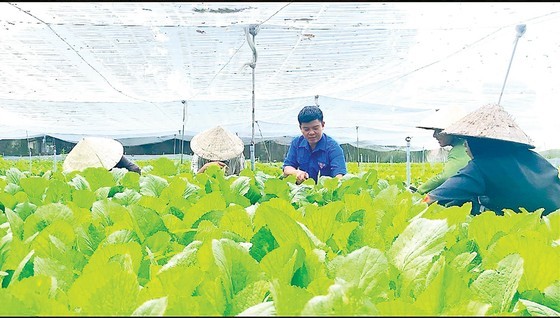 Tran Van Tam instructs his employees how to cut vegetables
After more than 10 years of implementation of the Project on Vocational Training for Rural Workers approved by the Prime Minister in 2009, Ho Chi Minh City achieved many important results when over 800,000 rural laborers received vocational training.
High-tech agriculture makes young rural men ric
Starting a business with the production model of embryos of abalone and lingzhi mushroom, 32-year-old Bui Minh Thang in hamlet 5, Hoa Phu commune, Cu Chi outlying district failed because he did not master the technique. Undeterred by his early failures, he decided to keep studying embryos of abalone and lingzhi mushroomas well as participated in several technical transfer classes organized by the Youth Union of the Agricultural High-Tech Park of Ho Chi Minh City in collaboration with the Cu Chi District Union.
After finishing the course, he asked for more capital to buy more equipment such as a tractor-mounted nebulizer, an automatic system for controlling the temperature for the farm, mushroom cultivation rooms. At at the same time, he converted furnace using firewood to the boiler.
He finally got success. Currently, his Saigon 10 Mushroom Farm has expanded to an area of 3,000 square meters and he sells about 80,000 embryo bags each month, peaking at 120,000 bags earning about VND 2.2 billion annually excluding expenses.
Similarly, 31-year-old Tran Van Tam has invested in a farm of leafy vegetables in Phuoc Vinh An Commune of Cu Chi District on an area of 2 hectares. He earned VND1 billion a year and created jobs for 15 employees. According to the young man, growing leafy vegetables is very suitable for local soil, growing time is 27-30 days, capital turnover is fast, and high productivity leads to high economic efficiency.
Vice Chairwoman of the Cu Chi District People's Committee Nguyen Thi Hang said that over the past time, the district has had about 18,000 rural laborers who have been participating in vocational training courses. The implementation of vocational training for rural laborers in the district has brought important effects. People now easily find vocational training programs that are suitable for their needs.
Vocational training tailored to local needs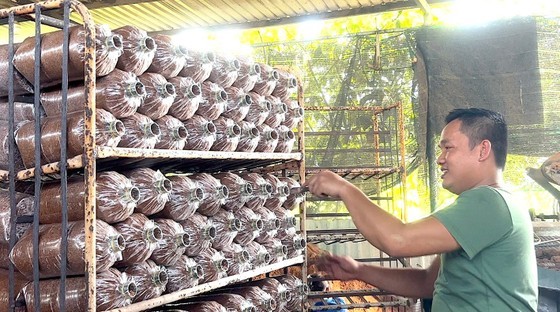 Bui Minh Thang and his mushroom farm
According to the assessment of the Department of Labor, Invalids and Social Affairs of Ho Chi Minh City, vocational training for rural laborers, especially in suburban areas, has been close to reality. The southern metropolis has about 800,000 trained rural workers and 85 percent of rural workers are employed. However, in the face of current competitive pressure, schools providing vocational training courses for rural laborers must change teaching methods to help rural laborers approach science and technology in production.
Deputy Director of Ho Chi Minh City Department of Labor, Invalids and Social Affairs Nguyen Van Lam informed that the municipal People's Committee has just issued a vocational training plan for rural laborers in the city for the period of 2023-2025.
According to the plan, the city is determined to raise the rate of trained agricultural laborers to over 85 percent and the income of rural residents will increase at least 1.5 times compared to 2020. Training courses will be tailored to provide high-quality human resources for smart agricultural production, ecological agriculture, organic agriculture and digital transformation in agriculture.
Being a teacher at a vocational training institution, lecturer Bui Thanh Hung, Head of the Ho Chi Minh City Agricultural Technical Intermediate School's Training Department said that from 2010 to now, the school has regularly implemented primary vocational training programs for about 12,000 rural laborers. In 2023, the Department of Agriculture and Rural Development of Ho Chi Minh City assigned the school to provide vocational training for 1,300 people. It is expected to open 35 courses on hydroponic vegetable growing; growing sprouts; growing orchids on the substrates; develop key crops and livestock such as dairy cows, pigs, shrimp, and ornamental fish.
Vice Chairwoman of Nha Be District People's Committee Le Thi Anh Thu said that Nha Be is a rural district with a large number of workers in need of training; thus, the district leaders always take heed of vocational training for rural laborers. In 2022 alone, the number of trained rural workers is 1,400 people, of which 134 are trained in agriculture and 90.39 percent of trained people got a job after finishing the vocational course.
The district also regularly carries out surveys on how many rural laborers want to participate in vocational training courses as well as the need to recruit trained workers for enterprises and production facilities in Hiep Phuoc Industrial Park and Long Hau Industrial Park in the Mekong Delta Province of Long An. The survey aims to help vocational training institutions to train rural laborers in line with the local socio-economic development plan. The district strives to provide vocational training to 1,500 residents by the end of 2023.