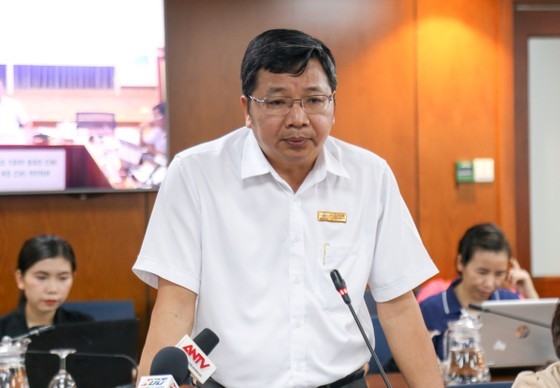 Mr. Nguyen Phu Vinh, Head of the Business Department of the city Electricity Corporation (EVNHCMC),
The Ho Chi Minh City Steering Committee for Disease Prevention and Control and Economic Recovery yesterday held a press conference to provide information on socio-economic issues and epidemic prevention and control in the city.
At the press conference, Mr. Nguyen Phu Vinh, Head of the Business Department of the city Electricity Corporation (EVNHCMC), informed about the results of the implementation of the municipal People's Committee's Official Dispatch No. 1993 on promoting energy saving and ensuring electricity stable electricity supply in Ho Chi Minh City in the dry season and 2023.
Accordingly, all districts, Thu Duc City and the Management Board of Export Processing and Industrial Zones (HEPZA) have so far implemented the direction of the city authorities to reduce electricity use, significantly contributing to stabilizing the electricity supply.
In addition, the entire public lighting system has adjusted the time to turn on the lights late and turn off the lights 30 minutes earlier meanwhile all decorative and billboard lights had to reduce their capacity by 50 percent or be turned off after 22 hours in a bid to save energy.
As a result, from May 16, 2023, Ho Chi Minh City has saved 10.2 million kWh of electricity. On average, the southern largest city saves nearly 1.14 million kWh of electricity every day worth about VND 2.4 billion.
EVNHCMC continued asking customers to take measures for reducing energy consumption. Specifically, this unit recommends people unplug appliances when not in use, increase the temperature of air conditioners and keep it at moderate levels to save on electricity bills and turn off or use lights with automatic on and off modes in public areas, garages, and corridors of apartments.
Regarding the shortage of rare drugs, Chief of Office of the Ho Chi Minh City Department of Health Le Thien Quynh Nhu said that currently infirmaries citywide are lacking some rare drugs such as Atropine eye drops, Acitretin oral pills, Dapson tablets combined with iron oxalate, etc. Mitoxantrone injection, Idarubicin injection, Foscarnet trisodium hexahydrate injection.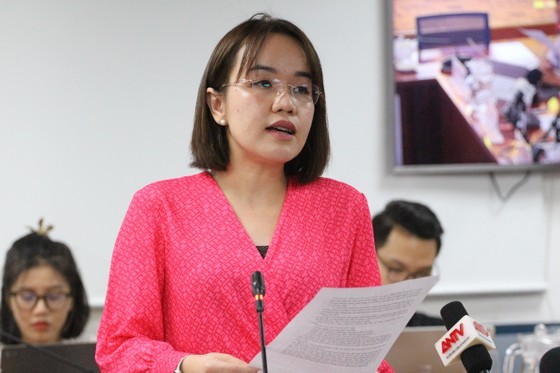 Chief of Office of the Ho Chi Minh City Department of Health Le Thien Quynh Nhu
According to Ms. Le Thien Quynh Nhu, these are drugs that have been in short supply for a long time due to a lack of suppliers; thus, hospitals have used alternative regimens. When substituting with other drugs, insured patients have to pay high drug prices or are not covered by health insurance. Therefore, the Chief of the Office of the Department of Health said that the Department of Health proposed a mechanism for the procurement of rare drugs by using the state budget.
About the shortage of rare for treatment of Botulinum poisoning cases, Ms. Le Thien Quynh Nhu said on May 22, right after receiving information about cases of Botulinum toxin poisoning, the Drug Administration of Vietnam has sought the World Health Organization (WHO)'s assistance for supplying botulism antitoxin.
On May 24, 6 bottles of botulism antitoxin were transported to Vietnam. However, a patient did not survive due to severe complications and an overdue antidote.
Thus, the health sector in Ho Chi Minh City expected that the Ministry of Health will soon have a solution to reserve rare drugs for emergency cases where there is no alternative medicine.
Talking about projects in the field of culture and sports, Deputy Chief of the Office of the Department of Culture and Sports of Ho Chi Minh City Nguyen My Hanh said that currently, the Department is studying projects proposing social contributions in the form of Public-Private Partnerships. It planned to attract FDI capital for about 27 projects.
At the same time, this unit will review the housing facilities under management to consider the eligible premises to be included in the list of projects needing social investment.