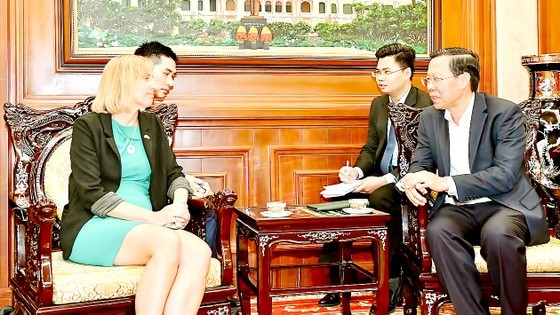 Chairman of the People's Committee Phan Van Mai receives Ms. Susan Burns, Consul General of the United States to Ho Chi Minh City
Mr. Phan Van Mai is pleased to see that the cooperation between the two countries is more effective. Ho Chi Minh City leaders always want to further promote the cooperation, bringing the US into the top 10 foreign investors in the southern metropolis and the US-HCMC turnover to exceed $10 billion.
He affirmed that in 2023, HCMC and the US Consulate General in Ho Chi Minh City will organize many activities to mark 10 years of Vietnam and the United States establishing a comprehensive partnership.
The city leader also hoped to soon sign a memorandum of understanding on establishing a twinning relationship with the US city of Los Angeles, enhancing cooperation in the fields of environment, human resource training, and such.
U.S. Consul General Susan Burns thanked Ho Chi Minh City's departments and agencies for supporting her over the past three months after she received her assignment. At the same time, she highly appreciated the ever-growing US-Vietnam relations with many high-ranking US delegations to Vietnam, including Ho Chi Minh City.
Ms. Susan Burns took an example that Fulbright University is a bright spot in educational cooperation between the US and Ho Chi Minh City. She expected that there will be more similar cooperation models between the universities of the two countries. Investment and cooperation between the United States and the southern largest city still have a lot of potentials, especially in digital transformation, environmental protection and waste treatment.