Attending the conference was chairman of the city People's Committee Nguyen Thanh Phong, his deputy Tran Vinh Tuyen, head of the Export-Import Department under the Ministry of Industry and Trade Phan Van Chinh together with experts, associations and domestic and foreign businesses.

Stating at the conference, chairman Phong said that cargo export development is the important but difficult mission of the city in coming years requiring the municipal government and businesses' determination.

Export activities in the city have continuously developed and greatly contributed to the city's economic development since 2000 when Vietnam signed the U.S.-Vietnam Bilateral Trade Agreement (BTA).
However export has shown signs of slowdown with growth rate below 10 percent a year for the past ten years. Hence, the city organized the conference to review the export situation, map out direction and build an export development strategy in the coming time.
Dr. Dinh Cong Khai, head of HCMC Institute of Public Policy, said that the city's export sector has grown in width and run after market instead of promoting comparative advantages. Export growth in the city has been in the tendency of reduction compared to the country and other localities. That has resulted in export turnover reduction.
Among 1,014 export items of the city, 186 have Revealed Comparative Advantage (RCA) accounting for 90 percent of total export turnover. However 108 out of the 186 products have seen RCA down. Major export items are electronic products, screens, spotlights, automatic data processing equipment, coffee, rice, garment and textile products and wood. Of these, electronic and mechanical engineering products and components show high export potential but they have mainly been made by FDI firms. Domestic businesses' ability to attend global value chains is low.
Meantime, the production scale of liquid crystal devices, watch accessories, fashion mannequins, dental or dental hygiene products is very small so they are unable to play the leading role in short term.
Traditional export products including garment and textile, footwear, agricultural and seafood products, rubber, chemical and wooden items are still playing important role with large export scale and comparative advantages. However, they have reached saturation in growth rate and gradually lost advantages partly because of increasing labor costs and premises rent.
Talking about export direction from now until 2030, deputy director of the Department of Industry and Trade Nguyen Ngoc Hoa said that the city's strategic point of view is to take growth quality as a foundation, change export structure towards supplying export support services and exporting services and intangible goods such as software and digital content products.
The city's long-term target is to increase the added value of export products. Specifically, the city will continue maintaining and supporting key products which create high export turnover, high growth quality and lots of jobs and make large contribution to the state budget. In addition, the city will focus on integration into global value chains to increase the added value of export commodities.
In the growth model given by Mr. Hoa, the most important thing is human resource and incentives from free trade agreements (FTAs). In addition, a foundation should be built for traditional products and products in a strong position in the city. The city should focus on export of intangible goods especially information technology products such as software, digital content products, postal service and others.
According to Mr. Hoa, the city's export growth is expected to approximate 7 percent a year in the phase of 2021-2030, of these FTAs will contribute 2-3 percent to export growth a year. In 2020, export turnover will be about US$49 billion. It will reach $80 billion a year in the phase of 2021-2025 and $129 billion a year in the phase of 2026-2030, posting an average growth rate of 10 percent a year.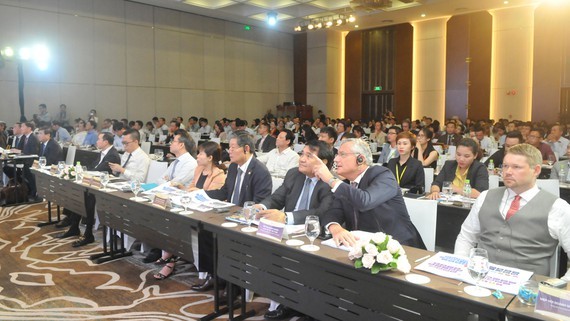 Delegates at the conference (Photo: SGGP)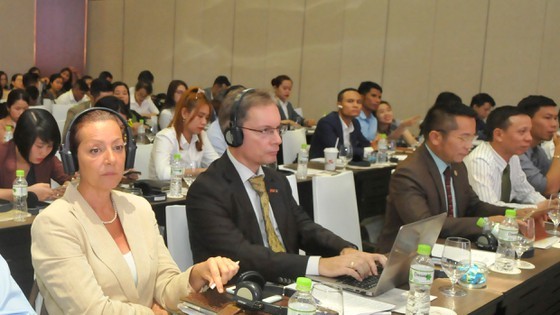 Delegates at the conference (Photo: SGGP)