The German Business Association (GBA) will celebrate its 20 year anniversary in Vietnam at the Park Hyatt Saigon Hotel on December 10.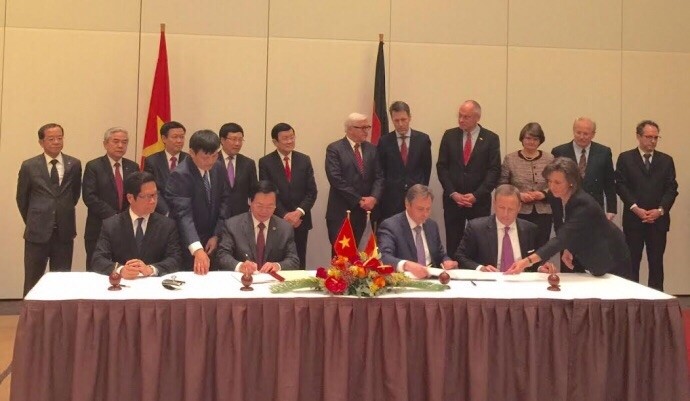 MoU signing ceremony enhancing the relationship and strategic cooperation between the GBA and AHK/GIC with the MoIT and the VCCI in Berlin on November 11, 2015. This MoU also serves as the next step to establish the bilateral German-Vietnamese Chamber of Commerce - Photo: K.L
The GBA has been one of the first foreign business associations in the country, starting its activities already back in 1995. Over that period of time, GBA has been the center point of German business life, culture and values in Vietnam. It helped German businesses in developing their operations, advised on a wide range of topics and created opportunities for business and social exchange in both Hanoi and Ho Chi Minh City.
From the past five years, the GBA has regularly organized successfully more than 286 business, networking and social events, which have attracted more than 120,972 participants in Hanoi and in Ho Chi Minh City.
"The year 2015 is very special and we are proud to celebrate 20 year establishment of the German Business Association in Vietnam at the same time with the 40 year anniversary of German-Vietnamese diplomatic relations. We are keen on further strengthen bilateral ties and trade exchange between Germany and Vietnam by merging with the Delegation of the German Industry and Commerce (GIC/AHK) and the GBA in the future bilateral German-Vietnamese Chamber of Commerce, the 'AHK Vietnam'", said Mr. Jens Ruebbert, Chairman of the German Business Association.
More than 190 member corporations from European Business Association and Chambers of Commerce and the representative from the German Embassy and German Consulate as well as from the Vietnamese Government will attend in the event.