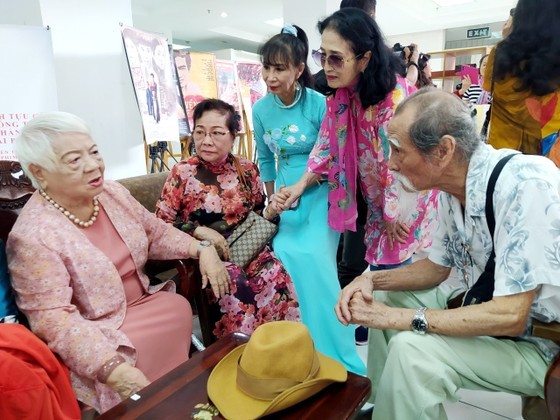 Director Xuan Phuong (L) and veteran artists at the meeting (Photo: SGGP)
The get-together is an opportunity for veteran artists namely People's Artists Tra Giang, Doan Quoc and Manh Dung, Meritorious Artists Le Van Duy and Thuy Lien, cameraman Ho Van Tay, director Xuan Phuong to meet and recall the first days of the Vietnamese movie industry.
The artists participated in a seminar on actors and actresses who had chances to meet President Ho Chi Minh, made films about Uncle Ho, and produced pictures during the war and in the present.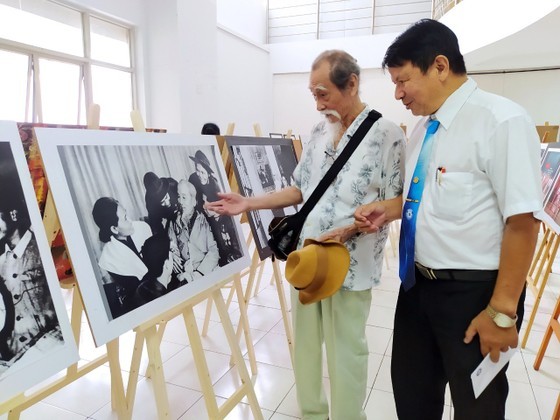 People's Artist Manh Dung (L) sees the photo exhibition at the gathering. (Photo: SGGP)
The meeting also included an exhibition presenting more than 200 photos, documents, articles and publications describing the history of the revolutionary struggle of the Vietnamese people and Vietnamese revolutionary cinematography, and typical artists, significant film events and classic movies.
People's Artist Tra Giang was touched when she saw a photo of her, offering flowers to Uncle Ho at the 3rd National Arts and Culture Congress in 1962. At that time, she was 20 years old and one of the representatives of the Southern region. She learned by heart Uncle Ho's teaching, "Artists and writers are also soldiers on the cultural front".
She then had another chance to meet President Ho Chi Minh at the screening of the movie "Chi Tu Hau" (Mrs. Tu Hau) in 1963.
Director Xuan Phuong, 94, remembered that she met Uncle Ho two times, once at the revolutionary base of Viet Bac and once she took a foreign film crew to shoot a movie about President Ho Chi Minh.
People's Artist Tra Giang (Photo: SGGP)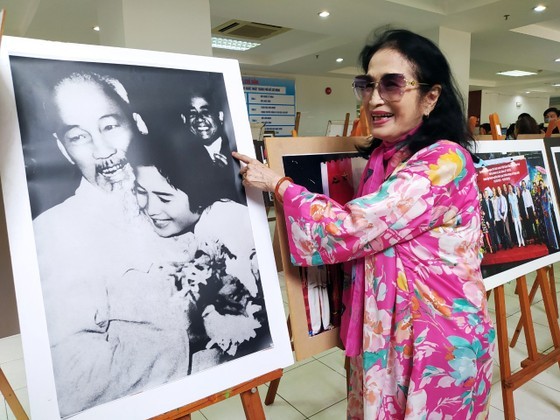 People's Artist Tra Giang was touched when she saw a photo of her, offering flowers to Uncle Ho at the 3rd National Arts and Culture Congress in 1962. (Photo: SGGP)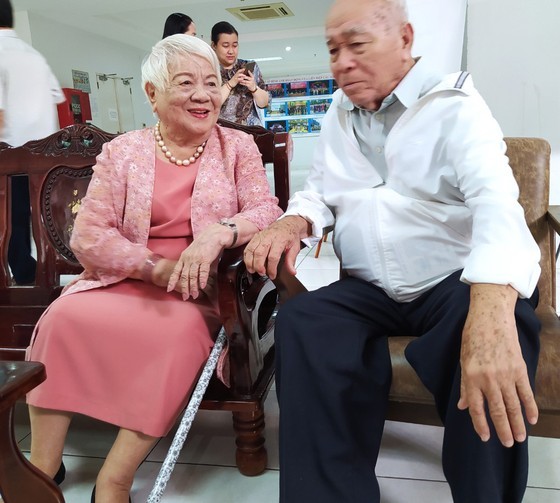 Cameraman Ho Van Tay and director Xuan Phuong (Photo: SGGP)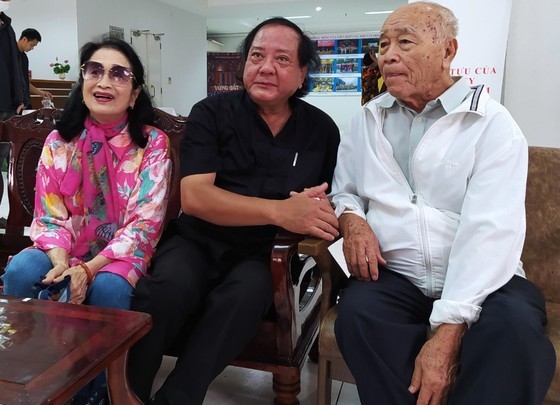 People's Artist Tra Giang (L), Cameraman Ho Van Tay (R) and Chairman of the Vietnam Cinema Association Do Lenh Hung Tu (Photo: SGGP)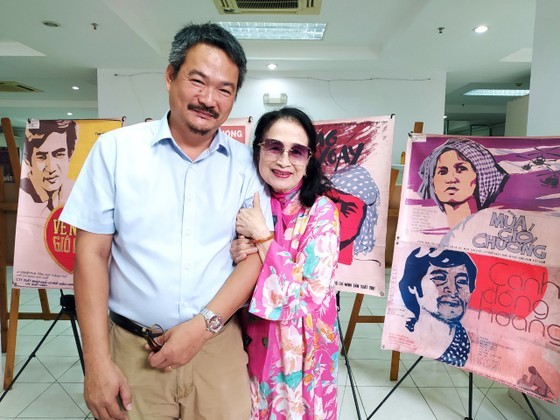 People's Artist Tra Giang and director of the HCMC Television Film Studio (TFS) Pham Viet Phuoc (Photo: SGGP)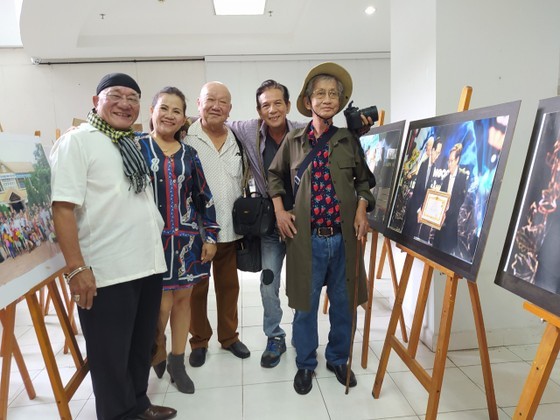 Meritorious Artist Le Van Duy (R) attends the event. (Photo: SGGP)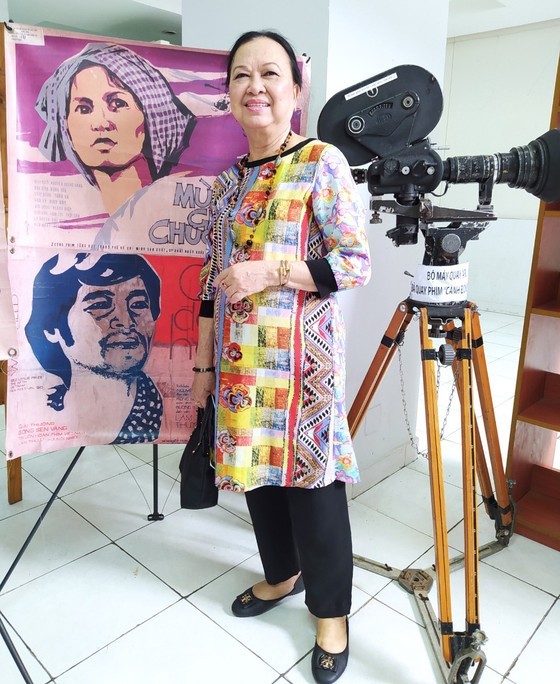 Meritorious Artist Thuy Lien who played the main role in the movie "Mua Gio Chuong" (Season of the Whirlwind) and poster of the film (Photo: SGGP)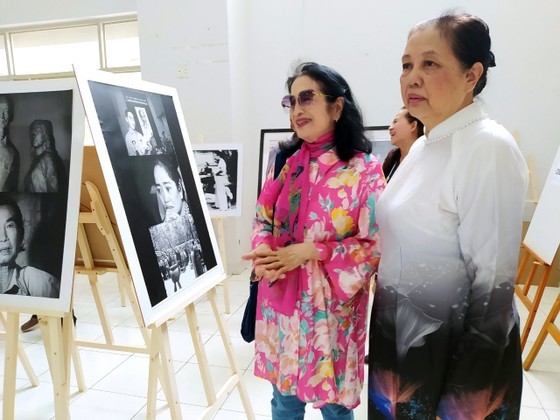 People's Artist Tra Giang and Chairwoman of the HCMC's Cinematography Association Duong Cam Thuy (R) (Photo: SGGP)
Exhbits are displayed at the exhibition. (Photo: SGGP)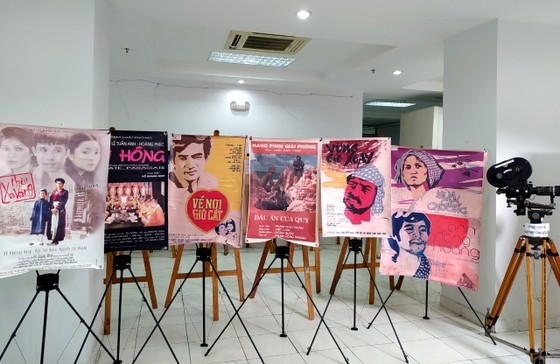 The exhibition presents more than 200 photos, documents, articles and publications describing the history of the revolutionary struggle of the Vietnamese people and Vietnamese revolutionary cinematography. (Photo: SGGP)