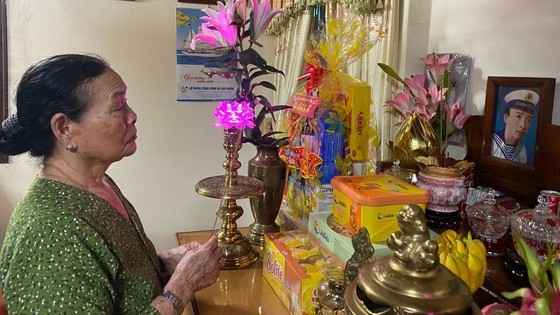 Ms. Tran Thi Hue has been waiting for her dear son for 35 years

35 years have passed, the bones and flesh of those 64 brave soldiers, including martyr Le The, have been forever merged into the sea of their fatherland.
Le The was born in 1967 and died in 1988 when on duty to fight against invaders to Gac Ma Island (Johnson South Reef).
At each death anniversary of Le The, his mother – Ms. Tran Thi Hue – takes out and rereads the last letter he sent to her before going to the Spratly Islands to perform his duty. Years have gone by, her eyesight has been fading, yet she still cannot hold back her tears looking at the picture of her dead son.
Every time thinking about her son. 81-year-old Hue carefully rereads his letter, crying quietly. She recalled that the letter was written on February 29, 1988, notifying that he would go to the Spratly Islands after a week staying in Cam Ranh Port, along with a promise to come back home soon.
"He did promise me then, and it has been 35 years already but I'm still waiting for him to fulfill it", she choked back her tears. Even though she memorizes the letter word by word, Ms. Hue still made a photocopy of the letter and reread it as a way to ease her throbbing pain.
"My husband had passed away when The had been 6 years old. I myself became the bread-winner of the family. Adult The then insisted on joining the army, even though he had been refused two times due to a lump near his left eye. For the third time, he went to a hospital to remove the lump and was accepted", said Ms. Hue.
After two years being trained in various locations, he was sent to the troop in Cam Ranh Port. He came back to visit his family for the last time at the beginning of 1988, repeatedly asking his younger brothers to take good care of their mother.
Hastily wiping tears rolling down her wrinkled face, Ms. Hue said that The's comrades once told her about his last minutes in that fateful morning of March 14, 1988. At that time, he and 6 other soldiers reached Gac Ma Island. They saw Chinese soldiers aggressively snatching a Vietnamese flag and rushed to stop those people. As a result, they were shot to death, with The being only 22 years old. 35 years have gone by, he was still the brave young man with an unfulfilled promise to his dear old mother…