Authorities in the Mekong Delta provinces are battling round the clock to save dykes and sluice gates as floodwaters continue to rise above danger levels, causing more damage to people and crops.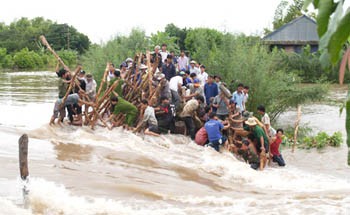 Villagers struggle with all their might to save the breached dyke in Thanh My Tay Commune, Chau Phu District, An Giang Province (Photo: SGGP)
According to the Steering Committee for Flood and Storm Prevention in Dong Thap Province, water levels in many areas of the province continue to rise rapidly and have crossed the danger mark of level 3 by September 30.
Many roads in the province are submerged due to heavy rains and rising water levels, said a representative of the steering committee.
Strong currents have breached and washed away 371 kilometres of roads and 10 water pipelines in Tan Hong, Hong Ngu, Thanh Binh and Cao Lanh communes, resulting in a loss of more than VND52 billion (US$2.6 million).
Up to now, 1,628 houses have been inundated, 15 houses swept away, 352 houses seriously damaged and 159 households relocated. Floods have submerged 2,000 hectares of fruit trees and farm produce and 24,102 hectares of autumn-winter rice crops in Tan Hong, Hong Ngu, Tam Nong and Thanh Binh communes.
Earlier, a three meter section of a dyke in Tan Thanh A commune in Tan Hong District was washed away, submerging more than 400 hectares of rice crops. The district People's Committee have asked thousands of residents to help in repairing the dyke.
Dong Thap Province authorities have mobilized more than 3,692 people including police, soldiers and residents to keep a close watch on the flood situation and the rising water levels.
Students in the province have been asked to stay home as a result of severe flood conditions.
At present, eight dykes have been breached in An Giang Province, submerging thousands of hectares of rice crops.
The hardest hit is district Chau Phu, where 3,000 hectares of rice crop lie inundated.
On September 29, An Giang Province authorities decided to close two dams in Tha La and Tra Su.
Prime Minister Nguyen Tan Dung plans to utilize VND170 billion ($8.5 million) from the emergency State Budget 2011 to support eight Mekong Delta provinces in coping with the devastating flood situation.