A flash flood in central Myanmar on Friday left dozens of people missing as homes along a river bank were swept away, government officials in the military-dominated country said.
"About 60 people are missing so far because of the flood" in Pakokku township, an official who did not want to be named told AFP.
"Some houses and a monastery along the river bank were swept away and a bridge was destroyed as the water rose up," he said.
There were no confirmed reports of deaths, a second official said.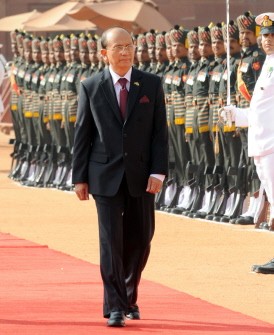 President of Myanmar U Thein Sein inspects the Guard of Honour during a full state welcome at the Presidential palace in New Delhi on October 14, 2011.
A monk in Pakokku said the water was believed to have risen to about three metres (10 feet) high.
"Some people, animals, houses and a monastery were swept away when the water rose up. The water level is back to normal now," he said. "We had torrential rain in previous days."
State media reported roads, bridges and buildings were damaged because of strong winds and heavy rains in some parts of the country.
Southeast Asia has been battered by particularly severe monsoon rains this year.
According to the United Nations, more than 700 people have been killed across Thailand, Cambodia, Vietnam, Laos and the Philippines, and eight million have been affected.
Thailand has been particularly severely hit, with more than 300 people dead and Bangkok on alert for flooding.