On December 26, 2018, the agency in coordination with the Traffic Police Agency and relevant agencies under the ministry arrested five leaders of Yen Khanh Company branch in Long An province which was allowed to collect fee at the toolbooth. Five tax- dodgers are Ngo Ba Thang; director of the company branch; Tran Van Mien, deputy director and head of Cho Dem toll station; To Phuoc Hung, chief accountant of Yen Khanh Company, Nguyen Thi Kim Hue, accountant and Nguyen van Hien, director of Xuan Phi Technical Company.

After searching their houses, authorized agencies collected some documents and online evidences related to the illegal trade and use of software to evade taxes and cause budget loss.
Currently, the ministry is expanding investigation to trial violators and reclaim state assets.
Yen Khanh Company was established in 2005, headquartered at 35-37 Ngo Duc Ke, Ben Nghe ward, District 1, HCMC. Chairwoman of the company Vu Thi Hoan has also been arrested.
Since being established, Yen Khanh Company attended lot of traffic infrastructure projects under BOT (Build-Operate-Transfer) form such as Viet Tri bridge, Highway 20 upgrading in Lam Dong province and Co Chien bridge.
Trung Luong-My Thuan expressway has the total capital of VND14 trillion (US$603 million) built by the joint venture of Tuan Luan, Yen Khanh, BMT Construction Company, Thang Loi Company, Hoang An Company and Bridges and Roads Investment Company.
The joint venture established Trung Luong-My Thuan BOT Company to implement the expressway project. Of them, Yen Khanh and Tuan Loc Company accounted for 30 and 40 percent of capital and the remaining funds was equally divided for other shareholders.
On December 31, the representative of the Road Management Department No.4 under the Directorate for Roads of Vietnam said that toll collection has temporarily stopped in HCMC-Trung Luong expressway.
Yen Khanh Company must hand over toll collection and human resource management to Cuu Long Investment Development and Infrastructure Project Management Corporation which will hand over management of the expressway to the Directorate for Roads of Vietnam.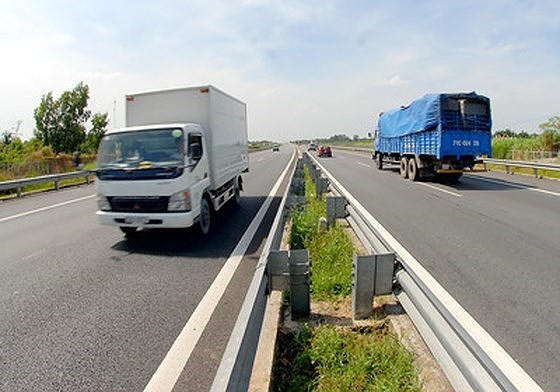 HCMC-Trung Luong Expressway (Photo: SGGP)
Explaining reasons for the toll collection halt, leaders of the directorate said that the Ministry of Transport assigned Cuu Long Corporation to sign a contract with Yen Khanh Company to collect toll in the expressway within five years with the contract value of VND2,004 billion ($86.33 million).
The toll collection started from January 1, 2014 and ended on December 31 , 2018. Hence, Yen Khanh Company must stop toll collection and hand over the project to the state.